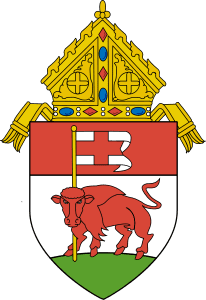 The calls for the bishop's resignation come in the wake of an investigation by TV station WBKW. One of the voices in this chorus belongs to a Catholic deacon.
Public pressure was mounting on Buffalo Diocese Bishop Richard J. Malone on Friday as a congressman, two other public officials and a prominent Buffalo businessman who serves as a church deacon today called upon him to resign because of his handling of clergy abuse cases that have rocked the community.

Those urging the bishop to resign also included a Catholic radio station in Buffalo — WLOF-FM, Station of the Cross — to post a statement on its web site, saying Malone "covered up for predatory priests" and should resign "immediately."

Paul L. Snyder III, chief executive officer of the Snyder Corp., told The Buffalo News it is time for thousands of Catholics in Western New York to "rise up" and insist on changes in their church.

Snyder, a long-time church volunteer who serves as a deacon in his parish, said he believes that recent news reports about Malone's handling of clergy abuse show that he and other top officials of the diocese have been involved in a "cover-up" and that it is time for Malone to resign.

In his letter to Malone, Snyder said the bishop's "conduct to mask the truth from our Community, demonstrates that you have been seriously negligent in your duties as the leader of our Diocese," Snyder wrote to the bishop. "I … respectfully ask for your resignation from the Catholic Diocese of Buffalo."

Similar comments came from Rep. Brian Higgins, D-Buffalo, Erie County Legislator Patrick B. Burke, D-Buffalo, and Buffalo Councilman Chris Scanlon, all of whom also called for Malone to resign.

…For Snyder, the final straw came this week when a Channel 7 report alleged that Malone and other diocese leaders were involved in a cover-up of allegations that Snyder's own pastor – the Rev. Robert Yetter of St. Mary's of the Assumption in Amherst — engaged in inappropriate conduct with adult men, including one who said Yetter tried to kiss him and grab his groin.

"I've served with this man for 15 years, served on the altar with him for many Masses," Snyder said. "I cannot believe that our bishop would fail to notify our parish members and those of us who serve as volunteers about these allegations."
Read the rest.