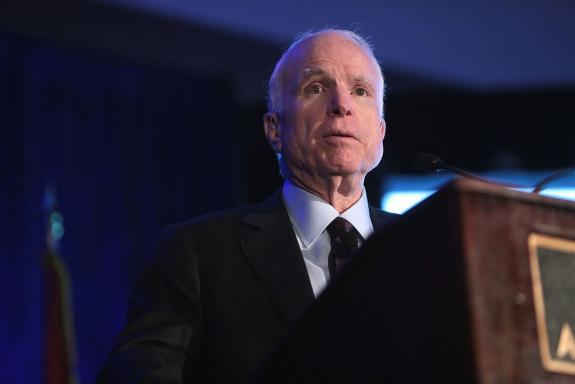 A glimpse at another side of the late war hero, via Maeve Reston at CNN:
He rarely showed it in his public life, but John McCain spent a lot of time thinking about this moment — when he would face his final judgment before God.

As his closest friends have often noted this week, he was a man of great contradictions: a playboy fighter pilot turned hero, a romantic and cynic, and as South Carolina Sen. Lindsey Graham said, a man who came to accept that his honor and his imperfections would always be in conflict.

Through all of his internal struggles with his mistakes or regrets, it was his quiet faith that sustained him. Few knew that the Episcopalian, who refused to flaunt his faith on the campaign trail, could quote Scripture at length and served as the "room chaplain" to his fellow prisoners of war in North Vietnam.

His own religious awakening began in that prison and the path ended here in Phoenix at his wife's Baptist church, where McCain developed a deep belief in forgiveness and God's grace.

Those touchstones that provided solace to McCain throughout his life are threaded through the religious services that begin today at North Phoenix Baptist Church, and continue at the Washington National Cathedral Saturday, culminating with a private ceremony at the US Naval Academy where he will be buried Sunday in a plot overlooking the Severn River…

…It wasn't until his plane was shot down over Hanoi that he began to rely on his faith. In solitary confinement, he has written that he prayed "more often and more fervently than I ever had as a free man."

His longtime friend Charlie Black, a pallbearer today at North Phoenix Baptist Church, recalled talking to McCain about how he somewhat reluctantly became the "room chaplain" for his fellow prisoners.

"When he was out of solitary (his captors) wouldn't give him a Bible, so he would come up with verses from memory that they could study together," Black recalled in an interview Wednesday.

McCain told me that he was "very slow in maturing." He said he knew right from wrong, the Bible, the Nicene Creed and the Apostles' Creed, and the tenets of his faith, but neglected them until that five-and-a-half year period in Hanoi.