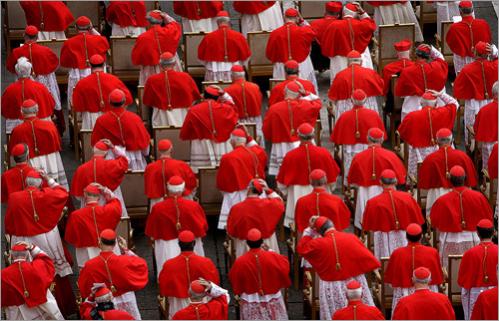 Elizabeth Bruenig of The Washington Post describes her efforts to interview former Cardinal McCarrick—and says something that, I think, speaks for many of us:
A little before 9:30 on Monday evening — likely a little later than is fair to an elderly man, I admit — I knocked on his door. I was dismissed by another person, via a muted conversation through a windowpane, but left a note and a business card. Hearing no word, I returned Tuesday afternoon and found my card still on the windowsill where I had left it. I suspected my efforts to contact the former cardinal might not be getting through, and so resolved to try a little more persistence this time, waiting on his doorstep for roughly an hour, with a letter I had brought.

But it seems my contact information had made it to authorities: After I left, a representative from the Washington archdiocese called my editor to complain about my presence. I was surprised to learn I had caused sincere alarm — I don't present an imposing figure, and nobody ever so much as opened the door to ask me to go away — but my insistence, the ringing and knocking, had clearly inspired fear.

I regret that. I don't ever want to cause anyone any fear. Yet I can't ignore the emails and calls and letters I receive daily from vulnerable, shaken Catholics asking: Is this true? They deserve — we deserve — an answer, no matter how embarrassing or painful or damning the truth may be for countless members of the hierarchy.

The church, in all its beauty, has historically imagined itself as a mother; Pope Francis has been especially fond of emphasizing this facet of its identity. Prelates, please listen to a woman who has given birth: Real love requires sacrifice. There are those among you who know the truth. Tell it now. It will hurt, no matter what it is. But it is the only loving thing you can do.