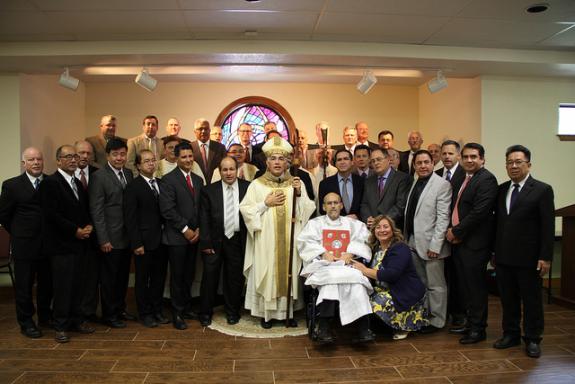 I had heard about this story a few days ago, and today received an email with the details:
It is with great joy that we welcome Deacon Daniel Guerra to the Order of Deacon. Bishop Joe Vásquez ordained him a deacon for the Diocese of Austin on Aug. 4. Daniel was scheduled to be ordained with his class in March 2019; however, he was recently diagnosed with an aggressive and progressed form of cancer.

During the ordination, Bishop Vásquez gave Daniel a special ministry of ministering to his classmates by prayer, word, and his example, as well as his suffering. The ordination was held at Cedarbrake Catholic Retreat Center in Belton with his classmates and his family present.

Thank you for your prayers on this joyful occasion.
Congratulations and welcome, Deacon Daniel! Ad multos annos! 
UPDATE: Deacon Bill Ditewig sent me the following pictures from the ordination, showing the Litany of Saints — that's Deacon Daniel's wife, Flora, kneeling behind him — and, later, the new deacon receiving an embrace from his bishop.