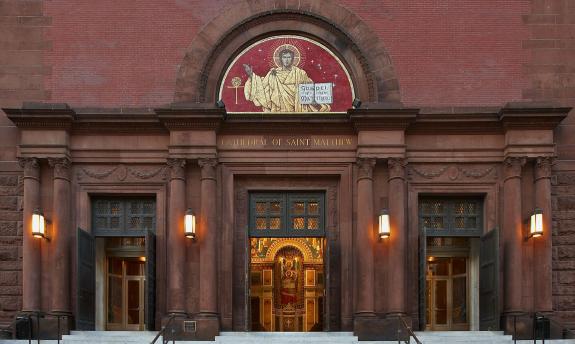 From The Washington Post: 
D.C. Attorney General Karl A. Racine said Tuesday that his office has launched an investigation into sexual abuse by Catholic clergy in the archdiocese of Washington, the latest in a string of state-level law enforcement officials now probing the Catholic church's handling of abuse complaints.

The investigation, announced by Racine at a regularly-scheduled breakfast among the District's elected officials, will bring scrutiny to Catholic leaders who have come under intense criticism in recent months.

Washington's archbishop, Cardinal Donald Wuerl, resigned this month amid uproar over a Pennsylvania grand jury report that depicted systemic abuse across the state's Catholic Church, including in Pittsburgh, where Wuerl had previously been a bishop.

Wuerl's D.C. predecessor, former-Cardinal Theodore McCarrick, was removed from ministry in June following allegations that he had sexually abused a teenager decades ago while serving as a priest in New York.

Racine has limited power to prosecute crimes in the District, where felony cases are handled by the U.S. attorney's office. However, he is opening the investigation under his authority to enforce D.C. law governing nonprofit groups, as well as District law on the mandated reporting of sexual abuse.

D.C. statutes allow the attorney general to subpoena documents and seek penalties against a nonprofit – up to and including dissolving it – if the group "has exceeded or abused and is continuing to exceed or abuse the authority conferred upon it by law" or if it "has continued to act contrary to its nonprofit purposes." Violation of the District's mandated reporting requirements is a misdemeanor.

…D.C.'s archdiocese is considered one of the country's most important U.S. seats for the church. It's the base of the U.S. government as well as key Catholic institutions like the bishops' conference and the Vatican Embassy.

It includes 655,000 Catholics and 93 Catholic schools – some of the healthiest numbers in the Northeastern quadrant of the country, where the Catholic church has been shrinking for decades.
UPDATE: The Archdiocese of Washington has released a statement on all this. The full text:
Last month, at the request of Cardinal Donald Wuerl, attorneys for the archdiocese took the initiative to brief the Attorney General for the District of Columbia, Karl A. Racine, on the extensive efforts that the archdiocese takes to prevent and respond to allegations of sexual abuse of minors. Along with outside counsel, Kim Viti Fiorentino, Chancellor and General Counsel for the Archdiocese of Washington, met with the Attorney General and his staff and provided documentation of the archdiocese's longstanding Child Protection Policy, including copies of the Annual Reports published by the archdiocese every year since 2003. A summary of these policies and procedures is attached to this release.

"We had a very productive exchange with the Attorney General and his staff. We explained that the problem of sexual abuse of minors in the archdiocese was an historical one – that to our knowledge there had not been an incident of abuse of a minor by an archdiocesan clergy member for almost 20 years," said Fiorentino. "The Archdiocese of Washington remains committed to a collaborative and transparent review process because there is not now, and has not been for decades, any problem of abuse of minors by clergy of the Archdiocese of Washington. Zero tolerance has been mandated in this archdiocese and zero abuse is the result."

Earlier this month, the Archdiocese of Washington posted the 28 names of archdiocesan priests who were credibly accused of child sex abuse going back to the archdiocese's founding in 1948 onward. It also announced that no archdiocesan priest in active ministry today who has ever been the subject of a credible allegation of abuse of a minor.

The Archdiocese of Washington was one of the first dioceses in the country to adopt a written child-protection policy, in 1986. Since 1992, the archdiocese has had a Child Protection Review Board consisting primarily of lay experts. Since 2002, the archdiocese has had a fully staffed Office of Child Protection and Safe Environment. It has spent on average $350,000 annually on child-protection efforts, which include training and mandatory background checks for all priests, employees and volunteers with substantial contact with children, and safe-environment training for all children in Catholic schools and religious education programs. The archdiocese also releases an annual, independently audited report on its child protection efforts, which is posted on its website and published in its Catholic Standard newspaper.

The archdiocese is committed to meeting the needs of survivors of abuse and reporting such allegations to authorities, and encourages anyone who may have been abused by a priest, employee or volunteer of the Archdiocese of Washington, or who is aware of any suspected abuse, to contact our Office of Child Protection and Safe Environment at: 301-853-5302.