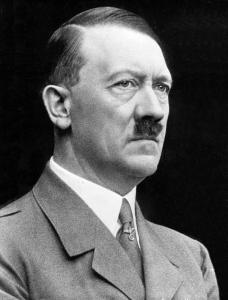 Is this a trend?:
A junior high special education teacher claims that her son's shocking Hitler costume — which included a brush mustache and a Nazi swastika on a red armband — was merely the result of needing a last-minute outfit for a recent community Halloween event.

But Janet Arsanian, employed at Cortney Junior High School, in Boulder City, Nev., is under fire, according to the Las Vegas Review-Journal, after photos of her son dressed as Adolf Hitler at a Boulder City Chamber of Commerce-sponsored event, "Trunk or Treat," went viral.

Many viewers were quick to express their outrage. One person wrote, "[This] teacher needs a lesson. [Such] a disgusting person, and raising a kid and teaching other kids?! Wow CCSD!" Another shared, "Proof you can have a college education and not be terribly bright…why the hell did she think this was okay?? And it's a shame because there's such a dire need for special education teachers."

However, Arsanian, in a private post to a Boulder City Facebook group that has since been deleted, said that the Hitler costume was simply thrown together in haste and does not reflect her or her family's views.

"I'm the proud parent of the boy in the Hitler costume and my son did not mean to upset anyone," Arsanian wrote. "He needed a last minute costume and he put that together today. He went as Hitler yes, a historical figure. No we don't worship Hitler or agree with what he did."
And then there's this, which happened Thursday 
in Kentucky:
An Owensboro man is taking heat online after complaining about how he was treated when he and his 5-year-old son went to a Halloween event dressed in Nazi garb.

Bryant Goldbach took to Facebook to vent after he and his family attended the Trail of Treats in Owensboro Thursday night.

He posted a photograph of himself and his son in which he wore what appeared to be a Nazi officer's uniform, and the boy wore a suit, swastika armband and Hitler-style mustache.

"Tonight grown adults threatened a child over his costume. Threatened his mom and dad as well," Goldbach wrote. "Threatened to rip his outfit off of him screaming obscenities, scareing (sic) a small child."

Goldbach said he and his family "love history, and often dress the part of historical figures."

He said some people intervened on the family's behalf.

The post is no longer visible on Goldbach's page.

But it was shared widely on Twitter Friday, along with angry comments.
A similar controversy arose a few years ago in the UK, for a World War II-themed costume party.
Honestly, who thinks this way? And who thinks that putting a Hitler mustache on a small child is something clever or cute?