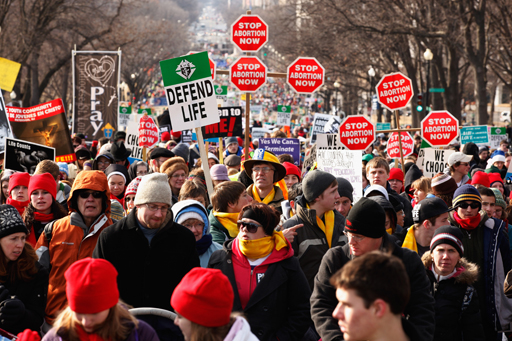 This news almost got lost in the holiday shuffle, but it was released Wednesday:
Fewer U.S. women are having abortions than at any time since Roe v. Wade, according to new government figures released Wednesday.

In 2015, the most recent year for which data is available, a total of 638,169 abortions were reported, a decrease of 2 percent from 652,639 abortions in 2014. The abortion rate was 11.8 abortions per 1,000 women ages 15-44 in 2015, compared with 12.1 in 2014 and 15.9 in 2006.

In the years immediately after abortion was legalized nationwide in 1973, the number of legal abortions rose dramatically, reaching its peak in the 1980s. Abortions then began dropping at a slow rate until around 2006 to 2008, when they increased slightly, followed by even greater decreases in recent years.

The Centers for Disease Control and Prevention surveillance report comes at a heated time for abortion politics in the country, with Trump administration officials introducing new policies to reduce funding to abortion providers and state legislatures debating ever more restrictive laws on abortion. Just this week, a federal court in Mississippi blocked the state's ban against abortions past 15 weeksgestation. In signing the bill into law, Mississippi Gov. Phil Bryant (R) had said he hoped to make the state the "safest place in America for an unborn child."

While the CDC paper did not delve into the reasons for the decline, analysts have cited improved access to birth control, which has led to a decrease in unintended pregnancies, especially among teens, as well as the state laws regarding parental consent, waiting periods and other conditions that make it more difficult for women to get abortions.

"Analyses have suggested that improved contraceptive use played a role in the long-term declines. In some states, decreased access to abortion services contributed, as well," said Rachel Jones, principal research scientist for the Guttmacher Institute, a research group that supports women's right to abortion.

Chuck Donovan, president of the Charlotte Lozier Institute, the research arm of Susan B. Anthony List, which opposes abortion, added other possible causes: "a higher percentage of women today decide to carry an unexpected pregnancy to term, teenagers are less sexually active and with fewer partners, pro-life views are more prevalent among the rising generation than they were 40 years ago."
Read the rest.