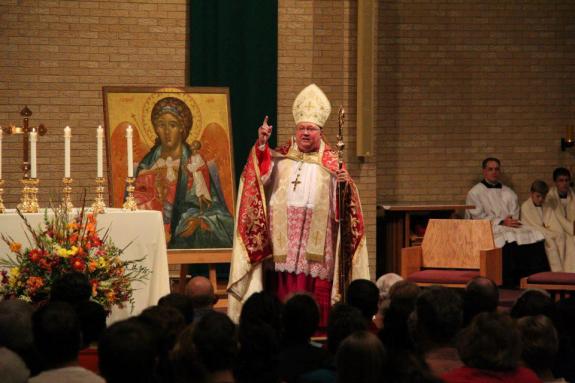 From the diocesan Facebook page:
Your urgent prayers are needed –The following message was sent to the priests of the Diocese of Madison, from our Vicar General, Msgr. James Bartylla, moments ago:

Dear Brothers in Christ,

Thank you for all of your prayers in recent hours. I write with an update of heavy news in regards to our beloved Bishop Robert Morlino. Whereas yesterday morning held a number of good reasons for hope for the recovery of the bishop, today has been filled with a number of disappointments in that regard. Unfortunately, matters have continued to turn for the worst and it is likely that our hope lays in a miracle at this point. In particular, we are asking for the miraculous intercession of Ven. Samuel Mazzuchelli. I would ask that in addition to prayers for a miracle, you also pray that if and when the time comes, the Bishop would be given the grace of a happy death and may look soon upon the face of our God, The Vision which shall not disappoint.

In prayer for our beloved Bishop, Msgr. Jim
Regarding Samuel Mazzuchelli:
Samuel Mazzuchelli, born in Milan, Italy, Nov. 4, 1806, descended from a family of merchants and bankers. At age 17, Samuel entered the Dominican Order of Preachers against his father's wishes and at a time when the Order was struggling.

This remarkable Italian-American, at the age of 22, came to the American frontier in 1828. After his priestly ordination, he was assigned by Cincinnati Bishop Edward Fenwick to be missionary priest of the whole of the Northwest Territory.

Father Mazzuchelli traveled this vast area on horseback, in native canoes, and on foot to serve the people scattered on the vast Northwest frontier, from the Great Lakes to the Mississippi and beyond. Those who called him to ministry were families of native tribes and new immigrant settlers, miners, and farmers, as well as political leaders, Catholics, and Protestants.

He established many local parish communities that remain to this day, designing and building more than 24 churches and civic buildings before his death in 1864 at the age of 57. From that time until now, increasing numbers of people have asked his help in prayer.

In 1993, Pope John Paul II declared Father Mazzuchelli Venerable, meaning he exemplified heroic virtues during his lifetime and was a servant of God, thus beginning the process of someday possibly recognizing Father Samuel as a saint in the Roman Catholic Church.

In 1847, he established a community of Dominican Sisters in Sinsinawa, Wisconsin, to help him carry on his mission of preaching and teaching. He ended his work as pastor of St. Patrick Parish in Benton, Wisconsin. Father Mazzuchelli died of pneumonia in 1864, having contracted the illness while visiting the sick on a bitterly cold winter morning. However, the Sinsinawa Dominican Sisters and the people and pastors of the parishes he founded continue to revere his memory as they carry on his mission today.
Holy Mary, mother of God, pray for us sinners now and at the hour of our death…