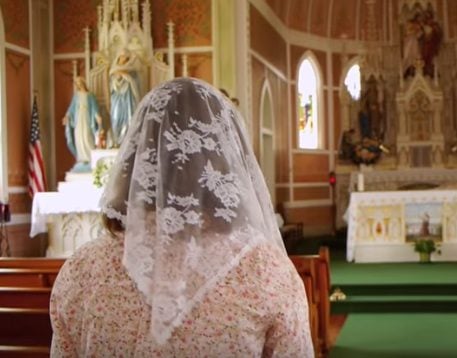 I've seen this in my own parish in Queens: more women (or varying ages) showing up for Mass with some sort of head covering or veil. A decade ago, you'd almost never see it. Now, you do. The numbers are small — a dozen or so at a Mass — but it's noticeable.
Some insight, from Birgit Jones at CatholicMom.com: 
A resurgence in the optional devotion of wearing a mantilla, or chapel veil, has many people in the pew scratching their heads. Why would women, especially younger women, return to a practice that is described as submissive and subordinate? The answer to this question lies in the motivation leading to the devotion. It may be simpler to address the mistaken intentions often directed at the ladies who make the leap.

Many people these days look at women who choose to practice the devotion of veiling as 'holier than thou' – most characteristically in Novus Ordo parishes. Nothing could be further from the truth. In my personal experience, the reasons women veil are numerous. Their motivation includes emulating the Blessed Mother because she is the consummate female role model. Another reason is that, often times, sacred things are veiled – the tabernacle, for example. As life-bearers, we women, have a sacred collaboration with our spouses and God. We carry the treasure of little souls within our bodies for nine months before introducing them to this world.
flat and unflattering by the time the final blessing of Mass is given. Wearing a chapel veil can, however, affirm the recognition of our God-given femininity as complementary to the masculinity of our spouses.
There are so many ways to embellish our appearance. We wear flattering clothing, jewelry, and perhaps a bit of makeup. Yet a chapel veil is not a fashion accessory. If the temptation to look on the veil in this way, it may be wise to reconsider this pious practice. Conversely, wearing a veil is often a hindrance to fashion. That carefully coiffed head, adorned with a beautiful hairstyle may very well be 
Some Catholics of good faith believe that the obligation for women to cover their heads continues to be binding to this day. Others recognize that the law surrounding veiling was abrogated, and therefore believe the practice to be passé. A quick study of Canon Law, however, confirms that, while the devotion is no longer binding, it is acceptable, and even desirable, as a voluntary practice.
Here's an interesting video on the subject: