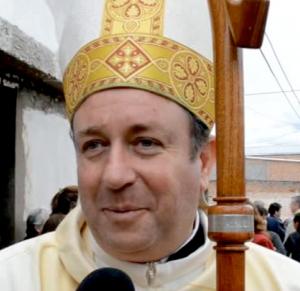 The Vatican has confirmed that an Argentine bishop, who resigned suddenly in 2017 for stated health reasons and then landed a top administrative job at the Holy See, is under preliminary investigation after priests accused him of sexual abuse and other misconduct.

In a statement to The Associated Press, Vatican spokesman Alessandro Gisotti stressed that the allegations against Bishop Gustavo Zanchetta only emerged in recent months, nearly a year after Pope Francis created the new position for him as "assessor" of the Holy See's office of financial administration.
The story notes that the bishop resigned suddenly because he was "unable to govern the clergy." He released a statement of his own, claiming an unspecified "health problem." He was 53 at the time.
CNS adds:
Four months after his resignation, Bishop Zanchetta was named by Pope Francis to a newly created role of "assessor" at the Administration of the Patrimony of the Holy See, commonly referred by its Italian acronym APSA. The office handles the Vatican's investment portfolio and its real estate holdings.

According to [acting director of the Vatican press office Alessandro] Gisotti, "no accusation of sexual abuse had emerged at the time of the nomination to assessor," specifying that those accusations had only come to light last fall.

He also underlined that the bishop had not been removed from the diocese in 2017, but that the bishop himself had requested to step down.

"The reason for him stepping down was tied to his difficulty in handling relationships with diocesan clergy and to very tense relationships with the priests of the diocese," Gisotti wrote.

"At the time of his resignation, there had been accusations against him of authoritarianism, but there were not any accusations against him of sexual abuse," he added. "The problem that emerged then was tied to an inability to govern the clergy."

Bishop Zanchetta, Gisotti said, was appointed to his position at APSA because of "his administrative management abilities."

According to reports in late December by the local Argentine media outlet, El Tribuno, three priests had gone to the papal nuncio, Congolese Archbishop Leon Kalenga Badikebele, with accusations against Bishop Zanchetta of sexual abuse. Another 10 priests reported abuses of power and financial mismanagement by the bishop at a diocesan major seminary he opened in 2016.