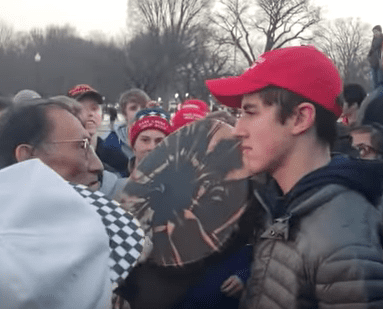 From The New York Times: 
Lawmakers are investigating the Twitter account that first shared a video of a group of white teenagers taunting a Native American protester in Washington, a collision of racial groups and politics that went viral.

The House Intelligence Committee asked Twitter on Tuesday to provide information about how the video took off so fast. The committee said it was also awaiting information about the account that first uploaded the video and accounts that helped spread it by retweeting it.

Senator Mark Warner, a Democrat from Virginia, separately asked Twitter to provide more information about the video. A spokeswoman for Mr. Warner said Twitter had found that the account originated in the United States.

Twitter declined to comment on the video, on the requests from the Intelligence Committee and Mr. Warner, and on whether the account was domestic.

…The lawmakers' moves were part of a cycle of outrage around the video. Uploaded to Twitter on Saturday by an account called @2020fight, which claimed to be run by a teacher named Talia, it showed a group of white high school students wearing "Make America Great Again" hats and encircling a Native American protester at the Lincoln Memorial. It was viewed at least 2.5 million times and retweeted at least 14,400 times before the account was removed.
Of particular note:
A spokesman for the House Intelligence Committee didn't return a request for comment. A spokeswoman for Mr. Warner said lawmakers had focused on the video and who might be behind it as part of their efforts to combat foreign interference in political campaigns. During the 2016 presidential race, for example, Russian operatives posted inflammatory videos and other content to stoke divisions among the American electorate.The identify of the person or people behind @2020fight remains unknown. The account used a profile picture of a Brazilian social media personality, Nah Cardoso, and purported to belong to an educator and advocate. It posted more than 100 times a day, including many overtly political messages that resonated widely on Twitter.

…The account appeared to be part of a network of users dedicated to amplifying one another on Twitter, said Ben Nimmo, a senior fellow at the Atlantic Council who studies disinformation.

Mr. Nimmo noted that the account had roughly 30,000 followers and followed just over 30,000 accounts since becoming active in December 2016, adding: "The sheer number of tweets and likes it has are not the kind of signature you get from a casual Twitter user."

Molly McKew, an information warfare researcher at the New Media Frontier, a company that studies social media, also examined the account and said it appeared to be part of a structure that was built to go viral.

"These types of accounts, and the bigger network they belong to, exist to create an amplification structure on Twitter," she said. "They amplify each other's content to create viral moments on the network."