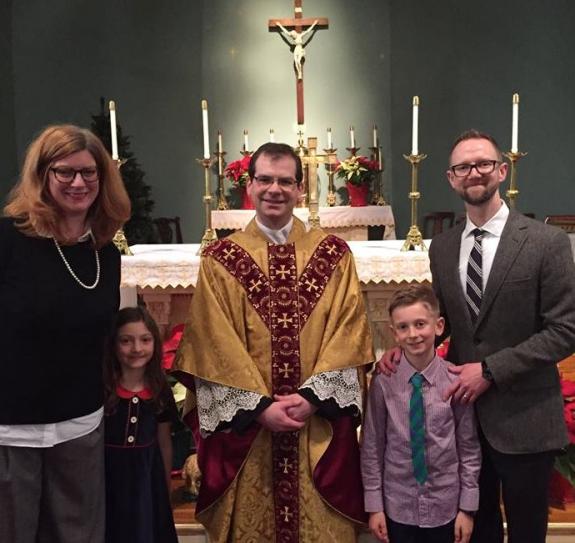 You may remember the story of the Episcopal priest Andrew Petiprin and his journey into the Catholic Church.
Now, he has published his own account in The Catholic Herald: 
On the morning of January 1, 2019, my family and I began a new life in the Catholic Church. At Mass for the Solemnity of Mary, Mother of God, my wife and two children and I were received, confirmed and made our first Communion together at St Patrick's Church in Nashville, Tennessee. Until the day before, I had been an Episcopal priest and a diocesan official.

I was raised Evangelical and passed through an agnostic phase before I was confirmed in the Church of England in 2002 while a graduate student at Oxford. My wife and children were all baptized in the Anglican Communion. For a long time, we thought we knew where we belonged; but when Mass finished on January 1, a crowd of parishioners surrounded us, shook our hands, gave my son and daughter children's missals and rosaries, took our pictures, and repeated the phrase, "Welcome home." On social media those same words came our way thousands more times, from all corners of the earth.

For years I had been a statistical outlier in the Episcopal Church: conservative on the theological and moral questions of the day, and especially same-sex marriage. Nonetheless, I enjoyed increased influence, compensation and status. My family loved the parishes we were a part of. No one was forcing us out, and it made a lot of sense to stay put. Breakaway Anglicanism never made much sense to me, and the Catholic Church's clerical sex abuse scandals troubled me.

Instead, I tried to fight for the Catholic faith within Anglicanism. But I was haunted by the questions of what Anglicanism was, what my Evangelical and agnostic past had been for, and what raising my children outside of the Catholic Church meant.

Blessed John Henry Newman reports in his spiritual autobiography, Apologia Pro Vita Sua, that he heard the call from the Lord years before his conversion, but like the prophet Samuel, he lay down again a few more times before verifying it.

For my part, this initial call came to me when I watched the funeral of Pope St John Paul II in 2005.