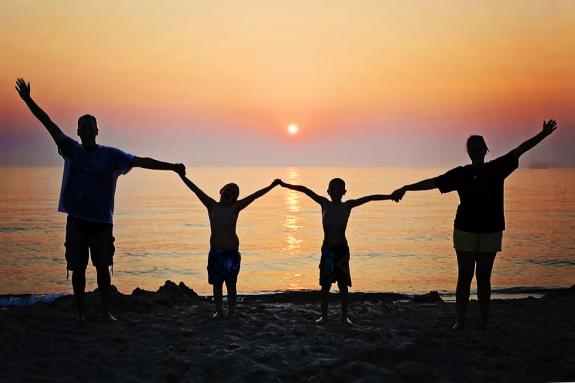 My blog neighbor, Dr. Gregory Popcak — a.k.a., "The Other Greg" at Patheos — alerted me to a wonderful project coming up. He asked me to spread the word. So I'm happy to let you know about it, too:
Families are under more pressure than ever today. School, work, social media, drugs, materialism and other issues all challenge each member of the family and make it more difficult to find a spiritual connection. The constraints on time alone make it tough for families to even have dinner together! Catholic families are no different; however, they are called to live differently.

These concerns and more will be addressed by leading experts at the Family Symposium July 19-21 at the University of Notre Dame. This major event is organized by Dr. Greg and Lisa Popcak of the Pastoral Solutions Institute and sponsored by Our Sunday Visitor, Holy Cross Family Ministries, and the McGrath Institute for Church Life at the University of Notre Dame.

More than 30 authorities in the fields of theology, social science and pastoral ministry to families will come together to discuss and answer these questions about Catholic family life July 19-21 at the University of Notre Dame. They will explore how families can encounter Christ in everyday relationships and how to express that experience with each other and in their community.

"As we work to help families live a truly Catholic life, particularly as family, the domestic church, we need to identify what it is that makes a Catholic family different and provide resources to simply and practically live a Catholic family life," said Dr. Greg Popcak, Director – Pastoral Solutions Institute. "This symposium will address many of these issues and provide tools to help families strengthen their relationships and improve their spiritual well-being."

Some of the experts scheduled to speak at the Family Symposium include several well-known Catholic family authorities Dr. Greg & Lisa Popcak, Andrew and Terri Lyke, Tim and Sue Muldoon, Julie Rubio, Justin Bartkus, Pat Fagan, Darcia Narvaez, Mark Gray, Joe Atkinson, Julia Dezelski and many others.
Curious? Read more. Or just visit this site. 
And hold fast to these inspiring words from Pope Francis, featured prominently on the site devoted to the event: "How precious is the family for transmitting the faith." I think we can agree: we need to remember this, now more than ever.  What can we do? Check out this symposium and find out.