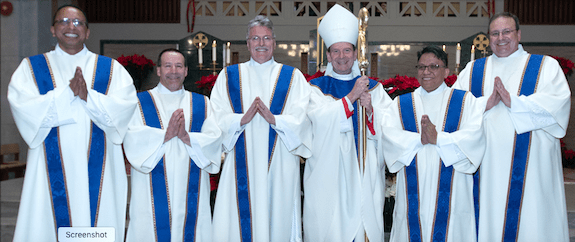 First, I just have to say: Kudos to the social media team at The Arlington Herald, who tweeted and posted pictures about this glorious event throughout the day. That is rare for a diocesan paper, and I am in awe. Great job!
And now, just hours after it happened, a first report:
Some hear their call through their loved ones. Others may receive confirmation in a far-off land. Yet no matter how they came to their answer, five men answered the call to be permanent deacons in the Diocese of Arlington.

Bishop Michael F. Burbidge celebrated the Mass of Ordination of five permanent deacons — Felipe Tubil Averia, Malcolm Louis D'Souza, Kenneth Joseph Galvin, Anthony Joseph Renzette and Peter Andrew Reyda — at the Cathedral of St. Thomas More in Arlington Jan. 12.

"They finished their formation in the year of the 50th anniversary of the reinstitution of the permanent diaconate in the United States," said Father Paul D. Scalia, episcopal vicar for clergy and director of the Diaconate Formation Program, in an interview before the event. "I think they represent a maturation of the process of formation and our understanding of the permanent diaconate and how we are forming them for the three-fold ministry of the word, the altar and of charity."

During his homily, Bishop Burbidge asked the deacons to reflect on three words — selected, sent and stay.

"Say 'present' to the Lord each day, ever confident that the One who selected you will strengthen you," he said. "Ordination instructions highlight the word 'go'. Go and bring glad tidings to the poor. Go and heal the broken hearted. Go out to the world and proclaim the Good News."

Bishop Burbidge told the deacons they are called to imitate Jesus. "It is in that going that you bring his compassion, his love and light, especially to those in most need," he said.

"With God's grace and the help of Our Blessed Mother, rejoice daily in knowing that you have been chosen by God, the One who sends you forth to imitate his Son, the one who came not to be served but to serve — but of course, only after you have responded to the invitation to stay with him; to abide in him. For only then, will you be able say each day: 'Present. Here I am Lord. Here I am.'
Great stuff. Read more. 
Congratulations, brothers, and welcome! Ad multos annos!