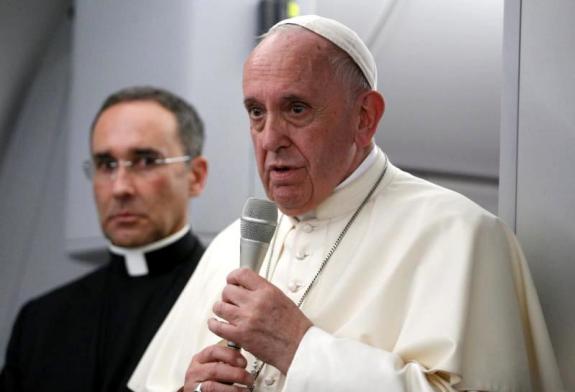 From CNS: 
The primary goal of the Vatican's February summit on clerical sexual abuse and child protection is to help bishops understand the urgency of the crisis, Pope Francis said.

During a news conference with journalists Jan. 27 on his flight to Rome from Panama, the pope said the presidents of the world's bishops' conferences have been called to the Feb. 21-24 meeting at the Vatican to be "made aware of the tragedy" of those abused by members of the clergy.

"I regularly meet with people who have been abused. I remember one person — 40 years old — who was unable to pray," he said. "It is terrible, the suffering is terrible. So first, they (the bishops) need to be made aware of this."
But he also had this to say:
Speaking with journalists for nearly an hour, the pope was asked whether he would consider a general acceptance of married men into the Latin-rite priesthood in a way similar to the practice of the Eastern Catholic churches.

"In the Eastern rite, they can do it. They make the choice between celibacy or marriage before they're ordained into the diaconate," he explained. "When it comes to the Latin rite, a phrase said by St. Paul VI comes to mind: 'I would rather give my life than change the law on celibacy.'"

The pope said he personally believes that "celibacy is gift to the church" and that while the prospect of married priests could one day be considered in remote areas that lack priests, he did not agree "with allowing optional celibacy."

"My decision is: no optional celibacy," the pope said. "I will not do this. I don't feel like I could stand before God with this decision."
Read it all. 
As a couple commenters have noted elsewhere: the Holy Father does seem to leave open the possibility of viri probati — the ordaining of "tested,"  older married men.  He's endorsed this idea in the past: 
Pope Francis has expressed openness to a renewed consideration of married priests in the Catholic Church, especially the possibility of ordaining the so-called viri probati, meaning tested married men, who could be called into clerical service.

"Then we have to consider what tasks they could perform, for instance in isolated communities," the pontiff said.

While the question put to Francis specifically referred to ordaining viri probati as deacons, many theologians and some bishops have also suggested they could be considered for priestly service.

The pope's comments came in a new interview with the German newspaper Die Zeit, excerpts from which were published on Wednesday, with the full version set to appear on Thursday.

At the same time, Francis appeared to rule out simply making priestly celibacy optional, saying that approach "is not a solution."