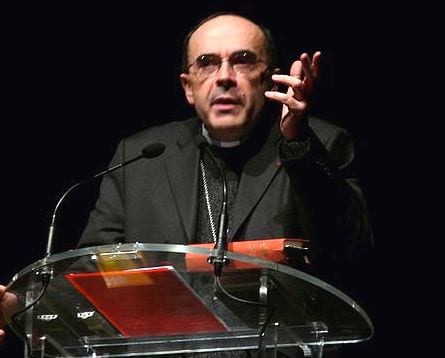 From The New York Times: 
A Catholic cardinal offered his resignation on Thursday after being found guilty by a French court of covering up decades-old sexual abuse by a priest in his diocese, a surprise victory for the priest's accusers, who had forced the case to trial after it was dropped by prosecutors.

The conviction of Cardinal Philippe Barbarin, the archbishop of Lyon, was the first in France against such a high-profile clergyman, adding to a long list of sexual abuse scandals in the Roman Catholic Church just weeks after a landmark meeting at the Vatican ended without a concrete plan to tackle the issue.

Cardinal Barbarin, 68, was found guilty of failing to report child abuse by the Rev. Bernard Preynat to the authorities from 2014 to 2015, after parishioners accused the priest of sexually abusing dozens of Boy Scouts in the late 1980s and early 1990s.

The court handed down a six-month suspended prison sentence to Cardinal Barbarin, who had faced up to three years in prison and a fine of 45,000 euros, nearly $51,000. His lawyers said they would appeal.