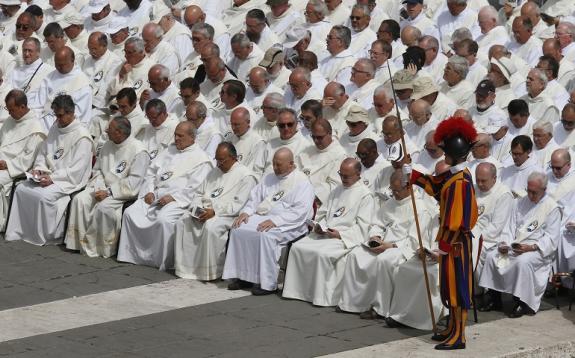 A few people sent me this item late today:
Professor Peter Hünermann – a well-connected and prominent German theologian – has told LifeSiteNews that, according to members of the German bishops' doctrinal commission who spoke to him, the report of the Vatican commission on female deacons found that "there is no historical evidence that in the patristics women were ordained as deacons."

In a recent interview in Germany, Professor Hünermann spoke about this Vatican commission on the history of female deacons that had been established, in 2016, by Pope Francis. This commission has ended its work and gave Pope Francis, already in mid-2018, its report. Professor Hünermann commented on the fact that Pope Francis "has withheld the results for months now," saying that this "is a sign for me that he does not agree with this statement as it stands."

When LifeSiteNews reached out to the German theologian, asking him for more information on this matter, he answered, saying that "Professor [Marianne] Schlosser of Vienna – a student of then-Professor Ratzinger [and a member of the Vatican female deacon commission] – informed the German doctrinal commission about the results of this study [of the commission]. This I learned from members of the doctrinal commission." He further explained that the "result of the Roman commission" is: "there is no historical evidence that in the patristics women were ordained as deacons."

As Professor Hünermann explained, this position had been earlier held by Cardinal Gerhard Müller – the former head of the Congregation for the Doctrine of the Faith in Rome – as well as by Professor Karl-Heinz Menke, who was a member of this 2016 Vatican commission on the female diaconate. As LifeSiteNews reported, Menke had said, in 2016: "A female diaconate has nowhere and never participated in the office transmitted by ordination."
As interesting as this sounds, it seems to contradict what two members of the deacon commission had to say in January:
Ms. [Phyllis] Zagano and Father [Bernard] Pottier, who serve on the Vatican's Study Commission on the Women's Diaconate, discussed their research on women deacons and the early church. They emphasized that roles for women deacons varied greatly depending on geography.

Ms. Zagano said, "There was ordination…. The most interesting evidence is the fact that the ordination ceremonies [we discovered] for women deacons were identical to the ordination ceremonies for men."

Father Pottier said women began to serve as deacons "very early" in the Eastern church but by the 10th century that ministry ended. In the West, women served as deacons from approximately the fifth century until the 11th or 12th century.

…Further, they recalled that there were specific liturgies for women deacons being ordained, with women and men serving different roles in their capacity as deacons.

Pottier said that over 800 books and scholarly articles have been written on this historical debate that amount to "various kinds of evidence of true ordination" of women deacons over a span of twelve centuries.
Stay tuned.