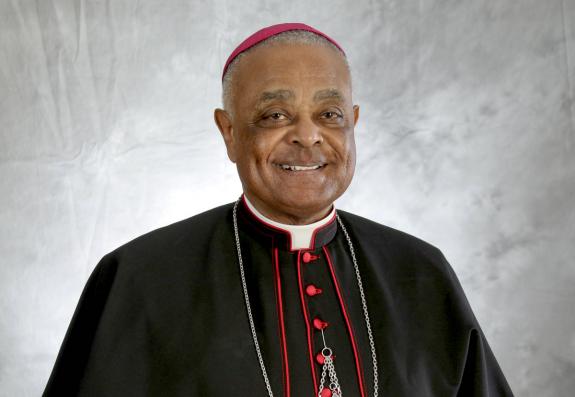 From the Vatican: 
The Holy Father Francis has appointed Metropolitan Archbishop of Washington (USA) HE Mgr. Wilton D. Gregory, until now Metropolitan Archbishop of Atlanta (USA).

HE Msgr. Wilton D. Gregory
HE Msgr. Wilton D. Gregory was born December 7, 1947 in Chicago (Illinois) in the homonymous archdiocese. After attending elementary school in Chicago, he entered the Quigley Preparatory Seminary . He studied philosophy at Niles College and theology at Saint Mary of the Lake Seminary in Mundelein (Illinois). Subsequently he obtained a Doctorate in Liturgy at the Pontifical University of Sant'Anselmo in Rome (1980).

He was ordained a priest on 9 May 1973 for the Archdiocese of Chicago.

After ordination, he held the following positions: Parochial Vicar of Our Lady of Perpetual Help Parish in Glenview; Student in Rome (1976-1979); Professor of Liturgy at Saint Mary of the Lake Seminary in Mundelain, Member of the Archdiocesan Office for the Liturgy and Master of Ceremonies of Cardinals Cody and Bernardin (1980-1983).

He was appointed Titular Bishop of the Olive and Auxiliary of Chicago on October 18, 1983, and was consecrated the following December 13th.

He was transferred to the Headquarters of Belleville (Illinois) on 29 December 1993 and took possession on 10 February 1994.

He was appointed Metropolitan Archbishop of Atlanta (Georgia) on 9 December 2004, and took office on 17 January 2005.

Within the US Episcopal Conference, he was President (2001-2004), Vice-President (1998-2001), Member of the Executive and Administrative Committees , of the Committee on Doctrine , of the Committee on International Policy , Chair of the Committee on Personnel, of Committee on the Third Millennium / Jubilee Year 2000 (1998-2001) and the Committee on Liturgy (1991-1993). Currently, he is Chair of the Committee on Divine Worship .

Besides English, he speaks Italian and Spanish.
From The New York Times: 
I am deeply grateful to Pope Francis for this appointment to serve the Archdiocese of Washington and to work with all of the members of this faith community," Archbishop Gregory said in a statement on Thursday. "I look forward to encountering and listening to the people of this local church as we address the issues that face us and continue to grow in the Love of Christ that sustains us." His installation is expected to take place on May 17.

The archdiocese of Washington is an historically significant posting. It covers the nation's capital, the Catholic University of America, and the Basilica of the National Shrine of the Immaculate Conception, the largest Catholic church in North America.

John Garvey, the president of The Catholic University of America, said in an interview that Archbishop Gregory was a positive choice for the region, especially because of his history of pushing the bishops to action on sexual abuse. "Archbishop Gregory is somebody who has helped to lead the way out of it before," said Mr. Garvey. "He has experience that, aside from Cardinal O'Malley, not a lot of people have."

In Atlanta, Archbishop Gregory has been known for his closeness to Pope Francis' vision. He commissioned an innovative action plan after the pontiff's signature encyclical on the environment in 2015, with practical steps for Catholics to protect the environment at church and at home. He has called on Congress to create a pathway to citizenship for immigrants who are in the country illegally. The diocese has grown to 1.2 million Catholics under his leadership.

Last fall, Archbishop Gregory invited the Rev. James Martin, a prominent Jesuit priest, to Atlanta to speak on welcoming L.G.B.T. Catholics, a decision that angered many conservative activists. In an interview, Father Martin called him "one of the most compassionate and open-minded bishops" when it came to supporting L.G.B.T. Catholics, their families and parishes.

"The Holy Father's selection of Archbishop Gregory shows that he wanted someone who was thoughtful, progressive and open-minded to lead one of the most important archdioceses in the world," Rev. Martin said.
Context from Rocco: 
For the third time in a row, the Chair of St Matthew's has gone to a well-seasoned prelate who's leaving a diocese larger than Washington for the banks of the Potomac. Still, that's not merely a reflection on the prominence of the Federal District, but the increasing complexity of its local church in light of a significant growth-spurt.

With a vibrant inner-city scene comprised of gentrifying parishes and historic ethnic enclaves – anchored by a Black Catholic community that's long been a political powerhouse – and teeming parishes in the Maryland suburbs marked by overflowing schools and ten or more weekend Masses in three or four languages, the pastoral reality of today's DC Catholicism is far more Atlanta than mid-Atlantic.
There's much more. Read it all. 
Rocco notes his installation is scheduled for Friday, May 17.