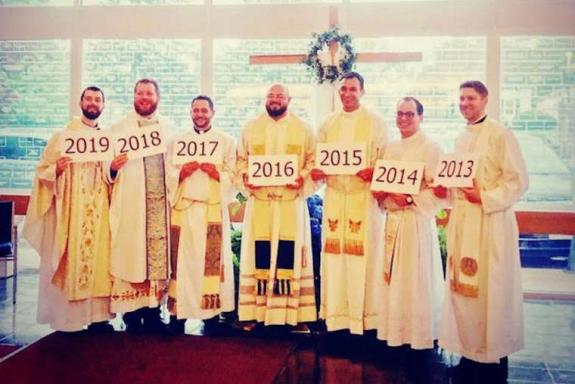 How does this parish do it? Is there something in the water?
Starting in 2013, and every year since for the past seven years, one young man from the parish of St. Mary's in Hudson, Ohio, has been ordained a priest of Jesus Christ for the Catholic Church.

It's a rarity in the Catholic Church in the United States to have that many priests coming from one place in such a short time span. The timing of it all was something that could have only been orchestrated by God, said Fr. Ryan Mann, one of the "seven in seven" priests, who was ordained in 2014.

Between staggered entrances to seminary after high school, college, or the start of a career, and some of the men dropping out of seminary for a year or two only to come back, "the seven in seven could not have been orchestrated ahead of time," Mann told CNA.

CNA spoke with three of the "seven in seven" priests to find out what it is about St. Mary's parish that is fostering so many vocations.

Before the seven, there was Fr. Stephen Flynn, a priest from St. Mary's who was ordained in 2008.

He "got the ball rolling" among the young men at St. Mary's, Mann said.

"Once the ball got rolling, it was easier to call this guy and say, 'Hey what's it like?' or if he was home in the summertime you can see – 'Is he weird? Oh he's normal, oh good, I can be normal and do this,'" he said.

"In many ways he was kind of the first fool who went to seminary" and had the courage to make the leap, added Fr. Patrick Schultz, a priest from St. Mary's who was ordained in 2016.

Schultz said that, starting with Flynn, the seminarians from St. Mary's would return to the parish on their breaks from seminary and spend a lot of time with the youth group, which allowed other young men to get to know seminarians on a personal level.

"When you talk about the 'secret sauce', I think it's the fact that…you get one seminarian, and you make him as visible as possible to demystify what being a seminarian is," he said.

"That's how you create a culture of vocations. It helps you see that there's such a thing as discerning priesthood – when you're signing up for seminary, it's not signing up to be a priest, you're discerning priesthood."
That's for starters. Read it all.