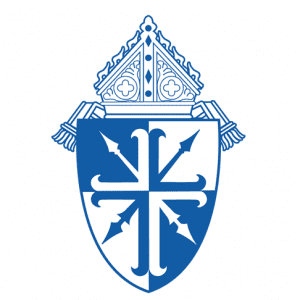 It happened Saturday. Two of the men will go on to be ordained priests.
Details, from the announcement on the diocesan website: 
Please join us on Saturday, May 18, 2019  for the Deacon Ordination held at St. Thomas Aquinas Parish, 955 Alton Rd., East Lansing, Michigan.

The Most Reverend Bishop Earl Boyea will ordain twelve men from the Diocese beginning at 10:30 a.m.

Ten of the men will be from the diaconal formation class and they are;  Sean Costello from St. Matthew in Flint, Eric Elstro from St. Joseph in St. John, Phil Guyeskey from St. Gerard in Lansing, Pete Hansen from Christ the King in Ann Arbor, Robert Nieman from St. Jude in Dewitt, Gary Perrydore from St Patrick in Ann Arbor, Gordon Prepsky from St John the Baptist in Ypsilanti, Richard Stoolmaker from St. John the Evangelist in Fenton, Robert Strouse from St. Jude in Dewitt,and Kevin Wiley from St. Mary in Pinckney.

The remaining two men are seminarians, who will be ordained as transitional deacons. They are
John Vinton from Holy Spirit in Brighton and Michael Cassar from St Francis in Ann Arbor.
Anybody have any pictures??
Congratulations, brothers, and welcome! Ad multos annos!