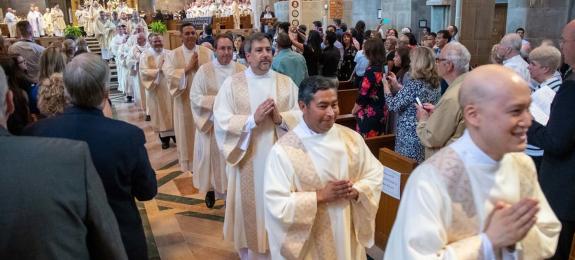 Father Michael Triplett, director of deacon formation, spoke of the importance of adding three Spanish-speakers to the archdiocesan clergy roster.

"The very first deacons were ordained to fill a need in a population that was neglected," he said. "There is a need for the Word to be taught by native speakers."

The crop included men who are already proven evangelists, such as Deacon Andrew Lacovara, who inspired his wife, Avendui, as well as her mother and stepfather, to join the Catholic Church. That happened at Corpus Christi Parish in Baltimore, Deacon Lacovara's home parish. He was vested by its pastor, Father Marty Demek, completing a journey that began under a predecessor, Monsignor Richard Bozzelli, and one that flourished under Father Triplett

"He's a happy warrior, sincere about the faith, making it a joyful experience to learn about it and the ministry," Deacon Lacovara said of Father Triplett.

A commercial diver, Deacon Lacovara said that he is eager to "go out to the people on the margins and bring their needs back to the community."

As the 14 men waited to follow a Knights of Columbus honor guard into the cathedral, one pronounced, "Here we go, brothers."
Congratulations, brothers, and welcome! Ad multos annos! 
And a special, personal shoutout to Andrew Lacovara. Two years ago, when I spoke at the convocation for deacons in Baltimore, we were all invited to pray for the next class to be ordained — and I picked Andrew's name out of bowl. That little slip of paper has been sitting on my desk in Queens ever since, a quiet reminder to hold in prayer all the others who have said "Yes" and who have embarked on on this journey. I prayed for him every morning.
God bless you, brother. I hope to meet you one day.