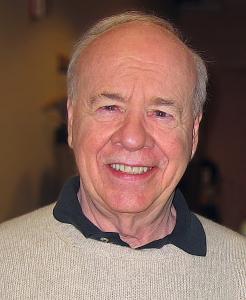 Another bright light has gone out:
Tim Conway has died at the age of 85.

He passed away at 8:45 a.m. in the Los Angeles area on Tuesday, his rep Howard Bragman confirms to PEOPLE.

Prior to his death, he suffered complications from Normal Pressure Hydrocephalus (NPH) and had no signs of dementia or Alzheimer's.

Conway is survived by his wife of 35 years, his stepdaughter, his six biological children and two granddaughters. In lieu of flowers or gifts, the family would like donations to be made to The Lou Ruvo Brain Center at the Cleveland Clinic in Las Vegas, Nevada.

The beloved actor is best known for his work on TheCarol Burnett Show, winning viewers over with characters like the Oldest Man and Mr. Tudball, whose accent he has said was inspired by his Romanian mother. He was known to ad-lib his sketches — even surprising his scene partners — and won a Golden Globe Award for the series in 1976, along with Emmys in 1973, 1977 and 1978.

At a 2013 event promoting his memoir, What's So Funny? My Hilarious Life, Burnett, now 86, painted her collaborator as an on-set prankster.

"Tim's goal in life was to destroy [costar] Harvey Korman," she told the crowd, according to The Hollywood Reporter.

"Harvey wet his pants," Conway bragged.
He also wrote about his faith in his memoir:
When he was unable to stand up without collapsing, his team members grabbed his arms and legs and carried him off the field ("no stretchers in those days"). A doctor eventually took an X-ray, found nothing broken, and put him in a neck brace for a few weeks.

Many years later, when Tim was already living in California, he visited a doctor due to back spasms. Tim was "dumbstruck" when the doctor told him his "spasms were a residual effect stemming from a broken vertebra." Tim insisted he'd never broken a vertebra, so the doctor asked him if he ever had a sports injury. Tim told him about the football incident in high school.

The doctor replied, "You may not realize it, but you are one lucky man. Here's what I think. Your vertebra probably was broken when you were hit, but when they picked you up and carried you to the locker room, your back got stretched out. I'd guess that the vertebra went back into place. The X-ray may not have shown anything at the time but, I assure you, you came very, very close to being permanently disabled. If they hadn't moved you, it might have been a different story."

That was a watershed moment for Tim, spiritually speaking. He writes, "Ever since that incident on the football field, which might have altered the course of my life, Jesus and I have stayed in constant touch. I never stop saying thank you."

Though Tim, who converted to Catholicism in college because of a girl he liked, doesn't wear his faith on his sleeve, his relationship with God remains important to him. He admits that his journey of faith hasn't always been a straight line, but adds, "All straight lines get a little crooked from time to time, but I tried to maintain a decent life."
During his high school years, Tim was playing in a football game when he got hit full force in the center of his back. He writes in his book that he lay on the ground for quite some time, unable to talk or "feel anything below my neck let alone move." Nobody seemed too concerned about him, though, since they told him to just "walk it off."
Eternal rest grant unto him, O Lord, and let perpetual light shine upon him…
God love you and keep you, Mr. Conway. Thanks for so much joy.
Below, a bit that remains a classic of television slapstick. It always brings me to tears — today, more than ever.