"God is at work in the world and we should never claim to have a monopoly on that."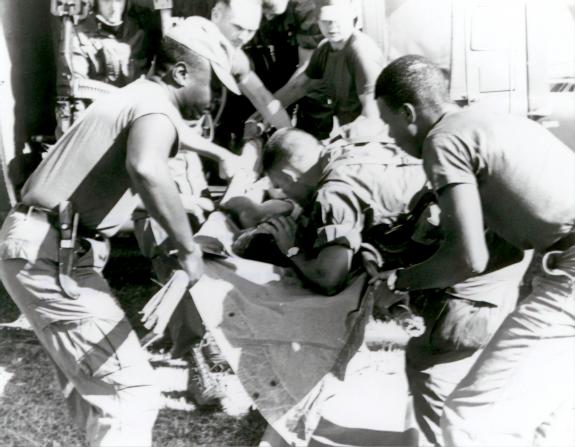 Chicago's Cardinal Blase Cupich spoke to the Association of United States Catholic Priests on June 26.
An excerpt from his talk — which focused on how "ordination does not annihilate baptism" — has relevance, I think, to all of us who are ordained:
In a field hospital, medics and those with the bandages go to those with the wounds. They don't sit back in the safety and isolation of their offices waiting for the needy to come to them. Instead they ask, "How can we help?" This requires patience, docility and openness to learning from others.

Pope Francis speaks about our need to lead our people to a vision of the Church as a field hospital, encouraging us to leave the safety of the sacristy for the mess of being with the needy. When pastors show that they are unafraid to get mud on their shoes, the rest of the Church will come to better understand what their mission is as they are sent into the world after the Eucharist.

Admitting that we do not have all the answers is key to undermining both clericalism and a self-referential church, as it witnesses to the fact that we are being attentive to how God is already at work in the dying and rising of Christ in the world.

Early in his papacy Pope Francis told a group of missionaries preparing to go to far off lands to remember that the Holy Spirit was there before they got there. A priest especially has to be curious, on the lookout for where the Spirit is already at work. One day while visiting a local children's hospital, a man came out of a patient's room and asked me to visit his daughter. He was a Muslim. We chatted a bit and prayed for his daughter. As he led me back to the hall, he asked if I was curious about why he asked me to visit his sick child. "Yes," I said, "but I was not sure how to ask." He then told me that in Islam it is a blessing to visit a sick person, especially a sick child. "I wanted to give you this blessing." How many times have we been the recipient of blessings when all along we thought we were the ones blessing? A young Jesuit on the Pine Ridge reservation, where I worked for 12 years as the bishop in western South Dakota, was visiting the Badlands and got horribly lost as the sun was setting. He had heard stories of wild animals and other dangers in the Badlands at night. Finally, off into the distance he saw a light and moved towards it. A young Lakota boy was shooting hoops in the front yard. Excitedly the Jesuit told him of his plight, how lost he was and needed help. The young boy just held his basketball and listened attentively. When the scholastic finally finished, running out of breath, the boy simply said, "Come on in. We're Indians, we help people."  God is at work in the world and we should never claim to have a monopoly on that, either because we are baptized and surely not just because we are ordained. In short, to the degree we as priests step away from clericalism in all its forms, the Church will benefit in taking up its true mission to the world as a field hospital.