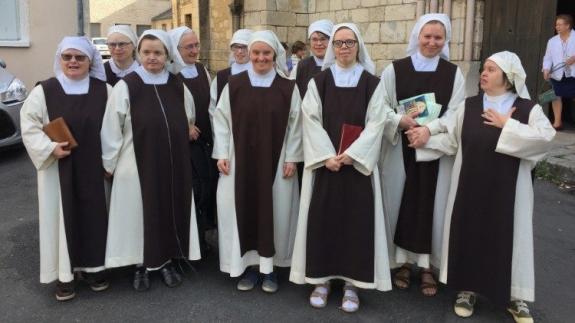 Most people probably don't even know such a community exists. Details: 
The Little Sisters Disciples of the Lamb live in the center of France. They are the first contemplative community in the world to welcome into consecrated life people with Down Syndrome, or trisomy 21.

The community, which has a special devotion to Saint Benedict and Saint Theresa of Lisieux, first got the idea in the 1980's. It started with a friendship. Line was on a spiritual search of her own and felt a calling to work with children. Véronique is a young woman with Down syndrome who felt a vocation to the consecrated life.

Line is now Mother Line, Superior of the Little Sisters Disciples of the Lamb (Petites Soeurs Disciples de l'Agneau). She explains: "I visited several communities that welcomed people with disabilities, but I saw they could not find their place in these communities because they were not suitable for them". "It was the encounter with Véronique, a girl with Down syndrome that gave us the idea for a new beginning. I told myself I had to help her realize her vocation".

Véronique wanted to respond to her vocation to serve the Lord, but was refused by all the communities she approached because she has Down syndrome. Canon Law and monastic rules do not provide for the admission of people with mental disabilities to religious life. It took Line and Véronique 14 years to get the statutes of this special community, with its own original style, recognized.

Line and Véronique began their community of two in 1985 in a small apartment, a council house. Later, another girl with Down syndrome joined them. In 1990, they asked the future Cardinal and Archbishop of Tours, Jean Honoré (1920-2013), to recognize them as a public association of lay faithful. It was the support of Cardinal Honoré, who defended their case in Rome, which allowed this small community to be recognized.