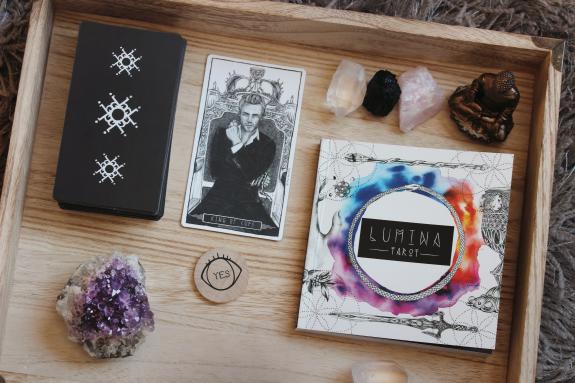 A growing number of young people — largely millennials, though the trend extends to younger Gen Xers, now cresting 40, and down to Gen Z, the oldest of whom are freshly minted college grads — have turned away from traditional organized religion and are embracing more spiritual beliefs and practices like tarot, astrology, meditation, energy healing and crystals.
And no, they don't particularly care if you think it's "woo-woo" or weird. Most millennials claim to not take any of it too seriously themselves. They dabble, they find what they like, they take what works for them and leave the rest. Evoking consternation from buttoned-up outsiders is far from a drawback — it's a fringe benefit.
"I know this work is weird," Lilia said of her breathwork practice. "But it makes me feel better and that's why I keep doing it."
The cause behind the spiritual shift is a combination of factors. In more than a dozen interviews for this story with people ranging in age from 18 to their early 40s, a common theme emerged: They were raised with one set of religious beliefs — Catholic, Jewish, Buddhist — but as they became adults, they felt that faith didn't completely represent who they were or what they believed.
identify as "nones" when asked about their religious affiliation, according to a 2017 Pew survey: They are atheist or agnostic, or say they are "spiritual but not religious."
Millennials increasingly 
But yes-or-no survey questions don't tell the whole story, says Diane Winston, the Knight Chair in Media and Religion at the Annenberg School for Communication at USC. Just about every society throughout human history has developed traditions and practices. That's not a coincidence. she said: "People are inherently religious or spiritual."
Today, young people still seek the things that traditional organized religion may have provided for their parents or grandparents: religious beliefs, yes, but also a sense of community, guidance, purpose and meaning. But it can be hard for young people to find those things in their parents' religions. So they're looking elsewhere.
On top of that, a lot of younger people feel alienated by mainstream religion — by attitudes toward LGBTQ people and women, by years of headlines about scandals and coverups, or by the idea that anyone who isn't part of that religion is inherently bad or wrong.