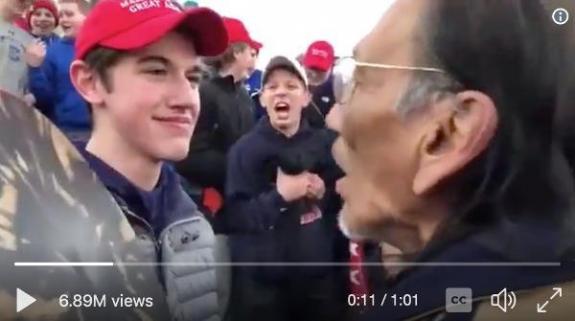 A federal judge in Kentucky on Friday dismissed a $250 million libel suit against The Washington Post brought by a high school student who claimed that the organization's coverage of his and his fellow students' encounter with an American Indian activist at the Lincoln Memorial in January was false and defamatory.

U.S. District Judge William O. Bertelsman ruled that seven Post articles and three of its tweets bearing on Nicholas Sandmann — who was part of a group of Catholic students from Kentucky who came to Washington to march against abortion — were protected by the First Amendment. In analyzing the 33 statements over which Sandmann sued, the judge found none of them defamatory; instead, the vast majority constituted opinion, he said.

Related: Read the lawsuit that was dismissed

"Few principles of law are as well-established as the rule that statements of opinion are not actionable in libel actions," Bertelsman wrote, adding that the rule is based on First Amendment guarantees of freedom of speech. "The statements that Sandmann challenges constitute protected opinions that may not form the basis for a defamation claim."

Sandmann's parents, who brought the suit on their son's behalf, said they would appeal. "I believe fighting for justice for my son and family is of vital national importance," Ted Sandmann said in a statement. "If what was done to Nicholas is not legally actionable, then no one is safe."

The Post, in its motion to dismiss the suit, asserted that its stories were accurate and did not impugn the reputation of Sandmann, a Covington Catholic High School student who entered a social media maelstrom after video footage shot during a chaotic afternoon on the Mall showed him standing face-to-face with drumbeating Indian elder Nathan Phillips.

In his suit, Nicholas Sandmann claimed that the "gist" of The Post's first article, on Jan. 19, was that he "assaulted" or "physically intimidated Phillips" and "engaged in racist conduct" and taunts.

"But," the judge wrote, "this is not supported by the plain language in the article, which states no such thing."
CNN's Reliable Sources newsletter notes:
The family's lawsuits against CNN and NBC are still pending. The court may rule in the coming weeks. Multiple media lawyers have remarked to me that the Post was facing the toughest set of facts with regard to Sandmann coverage, so Friday's ruling may bode well for the other news outlets, but lawyers know not to count any chickens until they hatch.