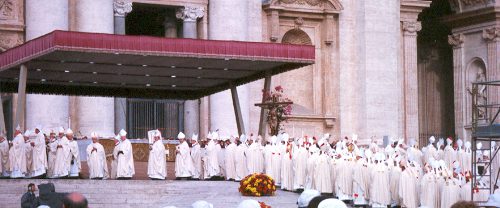 An important reminder, and some context, from NCR:
Pope Francis will have a rare opportunity to revamp the leadership of a large segment of the U.S. Catholic Church in the coming year, as a high number of bishops in dioceses across the country are reaching the traditional retirement age of 75.

In fact, nine residential American bishops are already 75 or older. Five more will turn that age by the end of June 2020. Although prelates can serve past retirement age at the pope's pleasure, it is expected that many of the 14 will be replaced.

And beyond those 14, eight other U.S dioceses are already operating without a bishop after retirements and transferals of their former prelates to other areas.

Church historians say the unusual circumstance of such a grouping of openings gives Francis a unique chance to make a long-lasting mark in a relatively short period of time on the direction of the U.S. church, especially as the bishops' conference continues to deal with the continuing crisis of clergy sexual abuse.

"This large clumping of ordinaries turning 75 over the last several years and now coming up allows Francis — like all popes — to try to create bishops and leadership in his own image," said Christopher Bellitto, who has written extensively on the history of the papacy.

"It's as crucial a time for church leadership since the 16th century," said Bellitto, referring to the Council of Trent, which tried to respond to the causes of the Protestant Reformation by stemming corruption among bishops.
Read on to see the list of those who are turning 75 now and in the months ahead.