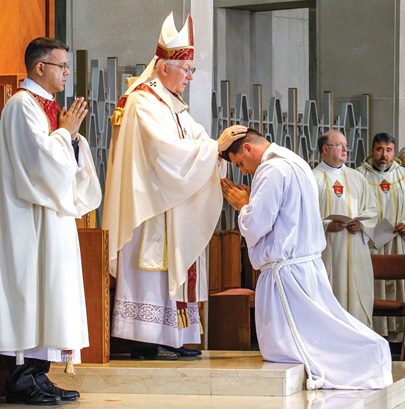 A h/t to Terry Mattingly's Get Religion blog — and writer Bobby Ross, Jr. — for highlighting this amazing vocation story.
Longtime readers will remember I posted on this surprising twist a couple years ago.
Now, an update, which comes to us via Sports Business Daily: 
Anthony Federico was fired from ESPN in 2012 for writing a headline.

You probably remember the story. A young ESPN employee, he wrote a headline for the company's mobile app that many viewed as a racial slur directed at NBA player Jeremy Lin.

Federico's life has taken an abrupt turn in the ensuing seven years. In June, he was ordained as a Catholic priest and assigned to a parish in Cheshire, Conn., just 15 miles from Bristol.

Seven years removed from the incident, Federico said memories from that night still hurt on occasion.

"But I'm free now," he said. "I feel great healing and closure. I don't have any ill will toward anyone in that time of my life."

I reached out to Federico last week to find out how he moved from the worst night of his life to the priesthood.

Federico was 28 years old on Feb. 17, 2012, working the night shift as the content editor for the mobile web. That meant that he wrote headlines and chose the editorial direction for the site.

That night, the Jeremy Lin-led Knicks lost to the New Orleans Hornets, ending a seven-game winning streak, and Lin did not play well. Around 2:30 a.m. ET, Federico decided to lead the site with a column that focused on how Lin played poorly for the first time as a starter.

"I tried to think of a headline that would go with that story — something that would reflect his first display of weakness since his incredible winning streak," he said via a phone interview last week. "I wrote the headline 'Chink in the Armor' to describe Jeremy Lin's first display of weakness as a starter."

Within a half hour, the headline started going viral on social media — and not in a good way. Most commenters considered the headline to be offensive given that it was directed at Lin, who is of Chinese descent.
He ended up losing his job in one of the most headline-grabbing firings in media.  But God clearly had other plans:
Federico's new job was more focused on business than editorial. That meant he kept more regular hours than the overnight shift.

During his lunch hour, he strolled around downtown Stamford, a walk that would take him by St. John the Evangelist Basilica, which had a daily noon Mass. Federico described his upbringing as more of a cultural Catholic than a practicing one — so much so that he didn't realize that Catholic Mass is celebrated every day.

"On the first day, I walked past it and thought it looked cool," Federico said. "On the second day, I walked past it again. Then — how biblical — on the third day, I decided to go in and see for myself what's going on."