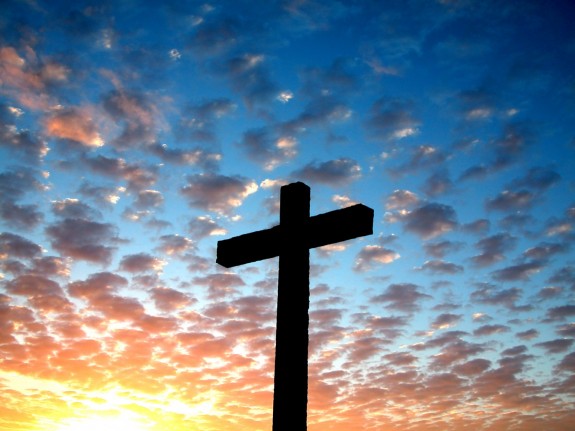 My friend Father James Stephen Behrens, OCSO — known to many as "Jeff" — entered eternal life last Thursday. You can read more about him here.
I'm unable to attend the funeral in Conyers, Georgia on Wednesday, but Jeff is very much on my mind and in my heart these days. His name has been on our lips as my wife and I prayed together in the mornings and evenings. The loss is palpable.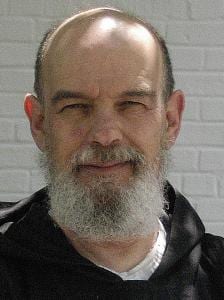 In the long and winding story of my life, Jeff was a figure God used to draw me toward my vocation; I don't know that I would be a deacon today if it weren't for him. His writing drew me to Conyers, where our friendship led to other trips, which brought me to that abbey for the International Lay Cistercian Encounter in 2002, when I had the unexpected experience of meeting for the first time in my life a permanent deacon. Four months later, I began formation.
Life is a wonder.
Tuesday, preparing for the funeral, his friend Brother Mark Dohle wrote the following and shared it on Facebook.
He describes the beautiful rituals surrounding the funeral of a monk:
When a member of our community dies, we gather the day before the funeral to receive the body. I guess this is around my 55th time for this, and a very powerful liturgical event.

Family, and friends of the Monastery gather for the 'Vespers' for the dead. The body is placed in our bier, and 8 men are the pall-bearers. The body leads the procession to the front of the church, where it is placed beneath the Paschal Candle. The candle that is lit at the Easter Vigil.

We sing the Vespers for the dead. Tonight the monks will take turns sitting with the body and to pray for Fr. James until the 10 AM service starts on Wednesday. Praying for the dead is a Catholic practice that is often not understood by non-Catholic's, but is very important in the Catholic Church.

It is still a little unsettling, the receiving of the body, but also healing for the community and hopefully for the family. In reality, apart from the sitting with James, the rituals that surround death are just as much for the living as for the deceased.

During Vespers, I kept looking over at James's body beneath the Paschal and was not sure what I felt. Yet my chest hurt, so I guess I was repressing the deep sadness that is there, but I am not always aware of it. We all go through this, saying goodbye to a loved one. Each one there had their own inner experience to feel and deal with. I feel for the family, which is a very loving one and close-knit.

When I was a young monk, it was always the 'old ones' who died. Well, now I am an 'old one'. Life is a journey, and I am getting close to the end, even if I live another 20 years, it is a short time for someone who has lived for 70 years.

People have faith because they have it. It does give us hope. Tonight we read from the 15th chapter of Corinthians, which dealt with the reality of the Resurrection of Jesus Christ, how our faith is built on that reality of the Risen Lord.

James was a man of faith, but he questioned and doubted as we all do I believe. Doubt is important because, like pain, it brings us back to ourselves and leads us to go deeper into the mystery of our faith. Which is rewarding, and I believe important today since it is really impossible to be a 'cultural Catholic', or a follower of any faith or religion. We need to know what our faith teaches and to deepen our seeking after the Lord.

So I believe that James is with the Lord, the Risen Lord. He is not far away, not even in the next room, but in this room with us, having put on the Mind-Of-Christ, he is much more than what he was before he was called home by the Lord.

It is important to love, to open our hearts to others, to learn to forgive and to have compassion and empathy for others. In this, we suffer, all of us, for there is always someone left. So until we are the ones who leave we have to seek to not fear the inner pain, sorrow, and longing to see just one more time the loved one, the friend, the family member. We learn to trust, to keep on going, knowing that sooner rather than later, we will be called to follow.

May God bless and keep us all in his embrace. May we respond to grace's calling, and may we never stop trusting in God love for us.
Over the weekend, I went searching for old pictures of Jeff. They are few and far between. I lost a lot of pictures when my computer hard drive gave up the ghost about a year ago. But I did uncover this picture of him from about 2002 or 2003. He had taken a break from monastic life and was thinking of leaving the Trappists — something he struggled with a lot back in those days. He found himself in New York for his birthday and a group of us — his two brothers, a priest friend and me — took him to the Mesa Grill near Union Square for dinner.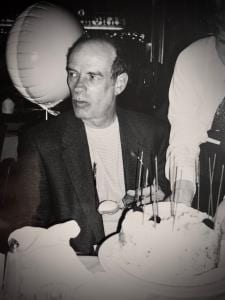 I also found a leather journal, which he gave me at the end of one of my visits to the monastery. He wrote on the first page:
"Life is a grand, sacred narrative and I'm very grateful we have come to know each other through it. Hope you find some good stories for these pages. I'm sure you will. Peace, Jeff."
The pages of that slender book are still blank. But so many other pages of my life have been filled to overflowing — and I owe that, in great measure, to Jeff and the uncanny workings of the Holy Spirit. He titled one of his collections of essays "Grace is Everywhere." Yes, it is. Jeff taught me to keep my eyes and heart open for it — even in the ordinary, the mundane, the overlooked and the forgotten.
It's all grace.
Until we meet again, brother:
Eternal rest grant unto him, O Lord, and let perpetual light shine upon him. May his soul and the souls of all the faithful departed, through the mercy of God, rest in peace.