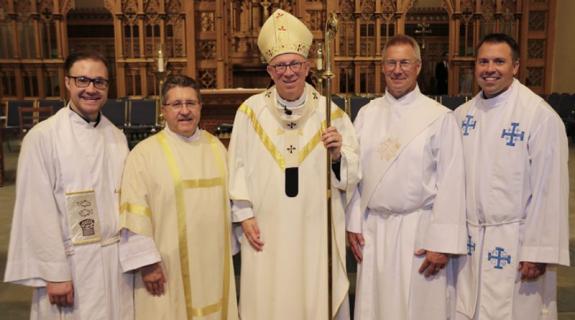 Some good news, and an increasingly familiar story — this time, from Iowa:
Being the parent of ­Father Jacob Rouse, Deacon Dan Rouse of St. Patrick Parish in Cedar Rapids, who was ordained with his class of 11 permanent deacons July 20 at the Cathedral of St. Raphael, has the distinction of being the second permanent deacon in the archdiocese whose son is a priest.

The pair joins Deacon Stan Upah (ordained in 2017) and Father Andy Upah (ordained in 2018). The vibrant faith of another family connected to the permanent diaconate has also led to a unique vocation situation for a father and daughter. Deacon Scott Zogg of Hiawatha (ordained in 2017) is the father of Sister Louis Marie Zogg, OP, who professed her final vows as a Dominican in 2015.

As the newest deacons underwent the sacrament recently, the presence of the Holy Spirit was palpable to many, including Deacon Rouse.

"The litany of the saints is always power­ful for me, but what was more powerful here for ordination was the laying on of hands – the bishop's hands," said ­Deacon Rouse. "Just imagining the hands of Christ. The hands were warm. They felt much larger than they really were. That really struck me. I wasn't prepared for that … "
[Editorial note: It might be better to say "as the new deacons received the sacrament," not "underwent the sacrament," which sounds too much like an uncomfortable medical procedure.]
Anyway: Ad multos annos, one and all!