"My stronghold was my faith."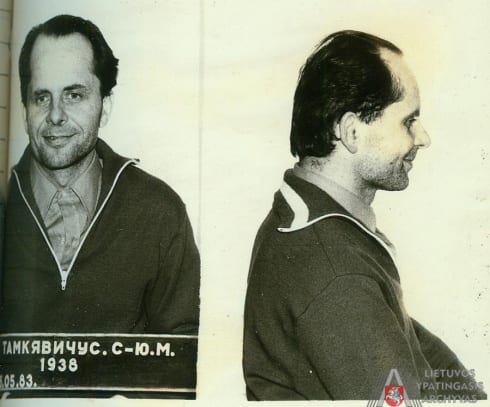 His name is Sigitas Tamkevicius and he may be one of the most heroic priests you've never heard of, with a name almost impossible to pronounce.
Sigitas Tamkevicius.
Remember that name. He is a man worth remembering.
He was born in Lithuania in 1938, and he spent much of his youth resisting Communist persecution. Like all young men from his country, he spent some mandatory time serving in the Soviet army. He was ordained a priest in 1962.
Six years later, he was secretly admitted to the Society of Jesus, the Jesuits. A year later, his license to work as a priest was revoked because he signed a petition against Soviet restrictions at the seminary.
He went on to work in a metal factory and made a living digging ditches. That didn't stop him from fighting to proclaim the Gospel.
In 1978, with four other priests, he founded the Catholic Committee for the Defense of Believers Rights.
His brave and persistent work on behalf of the faith came with a high price.
In 1983, he was arrested by the KGB, sentenced to 10 years of hard labor, part of it spent in Siberia.
But Father Tamkevicius was not unarmed. He relied on a powerful weapon.
Prayer.
"My stronghold," he said later, "was my faith. I kept alive by praying."
He explained:
"I could only celebrate Mass secretly. I celebrated the Eucharist with great care, and for me it was a great source of strength."
To get the bread and wine, he used the meal tickets he received as a prisoner. He was able to get a small amount of bread and a dry grape, which he would use to make the wine.
The other prisoners noticed his faith, and the strength that it gave him.
"They told me," he said, "'It's easier for you because you have faith, because you can say Mass and that makes you stronger than us.'"
Again and again, he not only turned to prayer, but to Mary.
"I placed myself in her hands," he said.
When his sentence was completed in 1993, he was finally set free — and his first act as a free man was to celebrate Mass. He took the train from Siberia to Vilnius and walked from the train station to the Chapel of the Virgin of the Gate of Dawn.
In the years that followed, he again served as a parish priest and a spiritual director at the seminary. In 1996, he became the archbishop of Kaunas in Lithuania.
But his life's work was far from over.
Earlier this month, in a move that was both surprising and inspiring, Pope Francis named Sigitas Tamkevicius — former prisoner and ditch digger , but always a faithful priest — a cardinal.
Today, we mark World Mission Sunday.  While this humble priest was not, strictly speaking, a missionary, his life affirms in a powerful way:
This is what it means to be a missionary.
This is what it means to love Jesus, to love the faith, and to want to bring that faith to others, even in the most dire of circumstances — inside the walls of a Siberian prison camp.
This is what it means to have a mission — this is what it means to be sent.
And, most challenging of all: this is what all of us are called to do.
The very name of the liturgy we celebrate right now, the Mass, is drawn from the same root word as mission. "Missa." It means "to be sent." At the end of this Mass, we are sent into the world, to bring Christ into the world, to "go in peace, glorifying the Lord by our lives," to bring a message of hope and freedom to a world that is often imprisoned.
We know that only too well. The barriers that surround us are sometimes as impenetrable as brick, as sharp and painful as barbed wire.
Barriers of doubt. Despair. Cynicism. Anger. Walls of division and hate. Boundaries erected by sin.
But we are called to break down those barriers and bring into the world a message of Christ's redeeming love — a message of mercy and grace — and to do it, as the scriptures today remind us, with persistence.
Do it with the persistence of Moses, who changed the world even though his arms grew weary.
Do it with the persistence of the widow in the parable, who never gave up seeking justice.
Do it with the persistence of St. Paul, who himself ended up behind bars for witnessing to the Gospel.
Yet, he never gave in or gave up.
"Remain faithful to what you have learned and believed," he wrote to Timothy. "Proclaim the word; be persistent whether it is convenient or inconvenient; convince, reprimand, encourage through all patience and teaching."
Proclaim. Persist. Convince. Reprimand. Encourage.
Paul's words are as vital to us today as they were to Timothy 2,000 years ago.
We need to persist. We need to endure.
We need to look beyond the prison walls and proclaim possibility and redemption. And we need to be witnesses of hope, when it's convenient and inconvenient, in the best of times and the worst.
Especially in the worst.
We have it so easy in this country. We complain about having to go to Mass on days of obligation. We whine about the weather or the parking or inconvenient Mass times. We gripe about other things we have to do, other places we need to be.
You won't hear that from the people of Lithuania.
Cardinal Tamkevicius said recently: "If a believer is not ready to suffer for his faith, then he's a very weak believer. Our local Church can give a good example to the whole Church, because during the 50 years of Communism, we kept our faith."
On this World Mission Sunday, remember and pray for all those trying to keep the faith, and suffering for it. Be generous today in supporting them, praying for them, praying for vocations to the missions, all over the world.
And remember that name: Sigitas Tamkevicius
With a piece of bread and a dried grape, one man made Jesus Christ present in a cell in Siberia.
Just think of what we might be able to do with God has given each of us.