"You are to serve as a pastoral bridge between the shepherds and their flocks."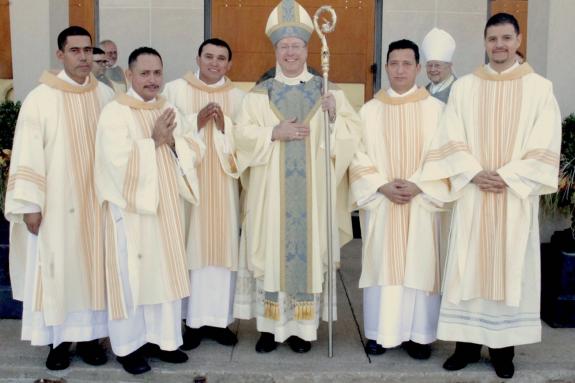 Bishop McKnight held aloft the chalice containing the Most Precious Blood of Christ.

Reflected on its side were four of the five men the bishop had just raised to the order of deacon for the Jefferson City diocese.

The fifth was assisting him at the altar and would elevate the Precious Blood with him at the end of the Eucharistic Prayer.

At home, at work, at church and out in the community, all five will join the other 83 active deacons in the diocese in conforming their lives to the mystery of Christ's death and resurrection.

"As they give up their lives for You and for the salvation of their brothers and sisters," the bishop prayed to the Father, "they strive to be conformed to the image of Christ Himself and offer You a constant witness of faith and love."

The new deacons are: Deacon Pedro Almazán, Deacon Jerónimo Chinchilla, Deacon Edwin Pacheco, Deacon Santos Rubio and Deacon Enrique Castro.

Bishop McKnight in his homily told the men that they were to become "ministers of the altar by proclaiming the Gospel, preparing the gifts for sacrifice, and by distributing the Lord's Body and Blood to the faithful."

They'll do that and much more.

They will preach and teach, baptize and catechize, animate the faithful and invite those without faith to encounter the Lord.
They will do these things in English and their native Spanish.
"With your natural and supernatural gifts, you are being called to assist your bishop and his priests to help meet the pastoral obligations we have to those in our local Church who belong to one of the Hispanic cultures," Bishop McKnight told them.

They will function as mediators between the bishop and priests and the laity, between the Church and the community at large, between people of different cultures and different languages.

"You are to serve as a pastoral bridge between the shepherds and their flocks with a special mission to remove the barriers and walls that might separate pastors from their flock," Bishop McKnight told them.
Congratulations and welcome, brothers! Ad multos annos!