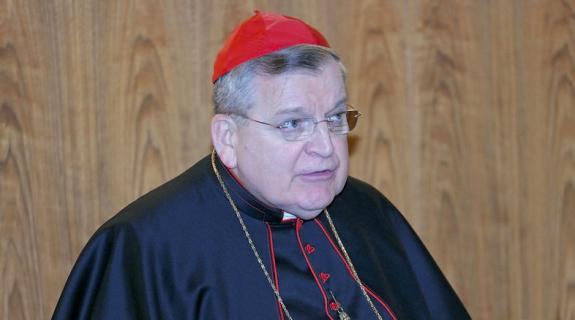 Cardinal Raymond Burke had several conversations recently with Ross Douthat of The New York Times, covering a wide range of issues and topics. Douthat published an edited version of these conversations this weekend.
Among other things, he spoke about his relationship with Pope Francis:
Burke: Throughout my priesthood, I was always criticized for being too attentive to what the pope was saying. And now I find myself in a situation where I'm called the enemy of the pope, which I am not.

I haven't changed. I'm still teaching the same things I always taught and they're not my ideas. But now suddenly this is perceived as being contrary to the Roman pontiff. And I think here what's entered in is a very political view of the papacy, where the pope is some kind of absolute monarch who can do whatever he wants. That has never been the case in the church. The pope is not a revolutionary, elected to change the church's teaching. And a lot of the secular view is people looking at the church, but not understanding her profound reality.

Douthat: But this is not just a secular view.

Burke: Oh, no. It's inside the body of the church. No question. I heard it from cardinals during the 2014 synod…

Douthat: Going back to the Holy Father himself, you have said that people have accused you of being the enemy of the pope. Do you think Francis regards you as his enemy?

Burke: I don't think so. He's never said that to me. I don't meet him frequently, but in the encounters I've had he's never reprimanded me or accused me of having inimical thoughts or attitudes toward him.

Douthat: But he has certainly demoted you.

Burke: Yes…It's clear that the pope doesn't want me in any leadership position, that he doesn't see me as the kind of person he wants to be giving any strong direction to things. But I've never had the impression that he thinks I'm his enemy.

Douthat: You believe Francis is a legitimate pope?

Burke: Yes, yes. I've had people present to me all kinds of arguments calling into question the election of Pope Francis. But I name him every time I offer the Holy Mass, I call him Pope Francis, it's not an empty speech on my part. I believe that he is the pope. And I try to say that consistently to people, because you're correct — according to my perception also, people are getting more and more extreme in their response to what's going on in the church.
There's much more. Read it all.