In the month of May, we walked 80 miles—from Nazareth to Ein Kerem, where Elizabeth and Zechariah lived. We ended our journey during Mary's month–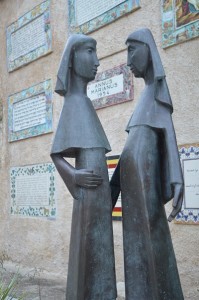 on May 31st, the Feast of the Visitation.
Get ready. Elizabeth's baby is almost here. He's coming on June 24th, and we are getting ready to return to Nazareth with Mary, because that is exactly what Mary did after the birth of St. John the Baptist.
The first virtual pilgrimage was such a hit that two radio programs covered it and my publisher requested a special post about it! "Walking With Mary" has become more than a one-month, one-time event.
We will be making the return journey to Nazareth with the Blessed Mother beginning on the Nativity of St. John the Baptist (June 24). Join us. We will arrive in Nazareth on the August 15th–the Assumption of the Blessed Virgin Mary. Click on the event and join the journey.
If you are so inclined, invite others to join us as well. Imagine what it was like for Mary. While we will have an easier time of it (since there will be more days to complete the journey on our way back to Nazareth), the return had to be the more difficult journey for Mary. For starters, going home is always harder. Hasn't every vacation you've ever taken ended with the long ride home?
Well, try the long walk home from Ein Kerem to Nazareth. THAT had to be pretty tough for Mary.
Mary was further along in the pregnancy as well. And there was no way for her to know what she would encounter at the end of that journey. Nazareth wasn't as welcoming as Elizabeth had been. What would their Nazareth neighbors say? Would Joseph reject her? Would she be stoned to death? What would her parents say?
It had to be one very long journey back home. So let's keep her company.
Let's walk those 80 miles with her—or run them or bike them or even hop in our car and ride 80 miles and imagine we are with her … because that is how far Mary had to go to return home.
When you journey with her, she's with you. She wraps her mantle of grace around you. She tells you things, whispers things into your soul.
You can find the mile tracker is in Dropbox. Send me a FB message if you would prefer to have me email it to you.
Enjoy these quotes from our first virtual pilgrimage and add more of your own on the Facebook Event Page:
I'm excited – I arrived at Ein Kerem at 9:15 a.m. (PST) today, May 26. What a journey! I feel so much closer to Our Blessed Mother, especially because I shared this journey with so many friends. This last week I varied my steps and joined my friends as they walked a nearby nature preserve. I imagined Mary's view being similar – a lot of brush, the sound of bees and insects buzzing around, dirt kicking up her feet and plenty of small hills. The weather was cool for me but I'm sure she walked in unbearable heat. Thank you, Denise, for challenging me to take this trip. It was amazing! I'll be ready to begin the return trip to Nazareth next month. – Lilia Rodriguez
So, I got stuck in Nain, and then floundered in the valley for awhile. I may not get out of Decapolis, lol. But, I'm still praying the rosary and doing better than I would if I hadn't started the journey! – Sharri Orndorff

Feeling blessed– I'm almost half way there 48.82 miles…I tried something different this morning. 12 miles cycling. – Angie Lu Garcia
Last Saturday I was praying the "Joyful Mysteries" during our walk with Mary. I was dutifully in prayer, admiring the beauty of God's earth below my feet and the heavens above me. What a beautiful day it was to be out walking.

Upon encountering the 5th Joyful Mystery, "The Finding of Jesus in the Temple", it struck me. Have I been walking today with Mary, but forgetting Jesus? As I was going along, with all of us together, did I somehow fail to notice that He wasn't with me? … – Patrick Denny

2 1/2 miles again yesterday to b closer to Mother Mary I had a great ride home from the Jersey Shore listening and reciting the MARRIAGE BUILDING ROSARY – Cathy Vasta Scansaroli