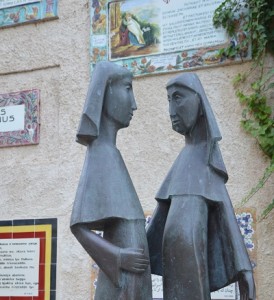 Every once in a while, something comes to me, and I just go with it.
Every once in a while, the thought grows into something so much bigger and more amazing than I ever expected.
That is how I would describe Walking With Mary to Ein Kerem.
I didn't need to pack my bags. I didn't need a passport. Sometimes, all I needed was the long lane that connects my home with the main road or a treadmill or an elliptical machine at my daughter's home in Minneapolis.
This journey is a prayer-journey.
This pilgrimage is one we make with the Blessed Mother.
We wake up one morning and decide—with almost the same spontaneity of Mary—that we are going to travel 80 miles in the footsteps of Our Lady.
Eighty miles. That is the distance between Nazareth and Ein Kerem (also spelled Ein Karem), where Elizabeth and Zechariah lived.
Yes, Our Blessed Mother made that 80 mile journey alone, on her own two feet, with the Messiah taking on flesh within her. She journeyed through Galilee, Samaria, the Jordan River Valley, and finally through the hills of Judea.
She crossed the threshold of Elizabeth's home … and the Magnifcat welled up in her spirit and spilled forth from her lips.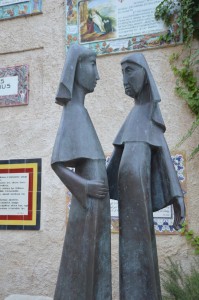 I made this virtual pilgrimage of prayer with Mary during Lent 2015. In May, I presented the idea to a few friends. It became a Facebook event and almost 400 people joined the journey.
We are sharing our thoughts. The songs that are going through our minds. The things we are seeing. The deliberateness of each step. How good it feels to be moving—and not just moving again, but walking with Mary.
We share about the days we can't walk, and others comment back: I walked more today than I need to walk, and you can have those miles.
Yes, we are carrying one another on this journey. We are sharing the miles with each other.
But mostly, we are sharing the miles with Mary.
This is no mental game.
This is not a gimmick to get back in shape.
Amazing things are happening in the souls of those who say yes to this journey.
We think of things we have never thought of before. We put on the mind of the Blessed Mother!
It's not too late. This journey can begin today. It can take as many days as you want to give it.
Here are a couple of things to help you on your journey.
First, a journey tracker. You can fill in the miles as you travel. It is a spreadsheet, and it is ready for you to personalize it any way you want.
Walking With Mary to Ein Kerem
Second, a link to the Facebook Event.
Read the comments. Scan the posts. See the pictures of scenes Mary would have seen.
And enter the journey!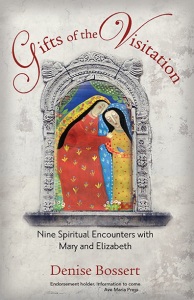 Gifts of the Visitation