I lived with Mary and Elizabeth for six months.
That's how long it took to write the book Gifts of the Visitation. The proposal took six months, and the waiting for the manuscript to morph into a book took another ten months.
That's how it is. Writing a first book takes longer than I had imagined.
So, while Mary only remained with her relative Elizabeth for three months, we lived there together in the hills of Judea—at Ein Kerem, or Ein Karem, or however you want to spell it—for six months.
Getting to the heart of the Visitation, though, began before that. It began after the Annunciation. It definitely began on the walk to Elizabeth's home.
I still make that journey every year via pilgrimage. But this year, I also did it (virtually on a treadmill) during Lent. I did it again during the month of May—Mary's month.
It's 80 miles from Nazareth to Ein Kerem, in case you were wondering. Eighty. I walked that far during Lent. And then, I set up the Facebook event and invited a few people to walk it with me during May. Five-hundred people walked with me.
You'd think you would learn all there is to learn the first time. Not so. I have been to the Holy Land a couple of times, so I can envision it.
During May, I found myself thinking about the places Mary passed even more. Magdala isn't far from Nazareth. That's where Mary Magdalene is from. In the first day of the journey, I thought of a girl-baby that would be born sometime after Mary's Son. A girl who would have a rough go of it—but who would find her own path to sainthood because of the One within Mary. St. Mary Magdalene.
As I walked, Mary and I put miles between us and the Sea of Galilee.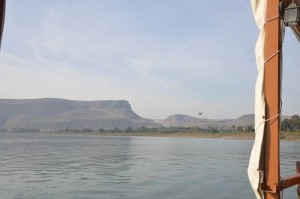 I thought about the brothers who were there—perhaps half-grown already—sons of a fisherman. Peter and Andrew.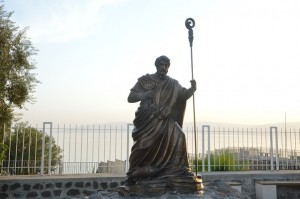 This Son of Mary, who was now growing within the womb of His mother, would call them to follow Him. They, too, would find their paths to sainthood because of this little One. Sts. Peter and Andrew.
Mount Tabor is in the distance. To our left. Can you see it rising. We are a few miles south of Nazareth. One day, this

child within Mary … one day He will be seen in all His glory … right there.
To the right we see the Valley of Jezreel. Armageddon will take place here—they say.
I pray that things have gone well for me by that time. I pray that I, too, have found my path to sainthood through this One Mary carries.
Time is strange like that. Mary lived back then. A child grew within her, a child who had always been. And these places held stories of saints-to-be, saints I know in the past tense.
And now, I am here. Walking. Thinking. Re-entering the Visitation and the journey that preceded it.
We pass the road to Jericho and enjoy the Jordan River Valley. I am thankful we avoided the hills of Samaria. I am new to this walking thing—even on a treadmill. I haven't enough stamina yet to cover 80 miles at a high incline. Maybe if I had more time. Maybe if we hadn't limited this journey to the month of May. Thirty-one days goes so fast.
But then I think of Mary, who probably covered the distance in less than a week. Some say in five days.
I cannot imagine it. Not during the first trimester of pregnancy. Not in a place that rarely sees rain. Not when travelers there would have had to rely on underground springs in order to cover a terrain that is about as rugged as it comes.
And even if she had avoided the hills of Samaria and taken the Jordan River Valley on her way southward, she would have hit the hills of Judea at some point.
She would have passed the road to Jericho …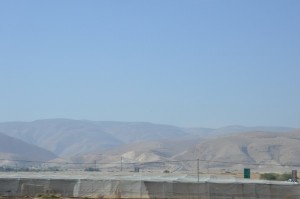 …and Jerusalem, and Emmaus, and then she would have set her sights on Ein Kerem.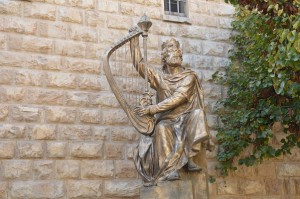 I thought of all the events that would take place in Jerusalem and the walk this child would make one day to Emmaus.
Time is a strange, strange thing.
Did you know that Ein Kerem means "spring of the vineyard?" I pondered that during my six months in Ein Kerem on each of my journeys to this place—both literally and figuratively (virtually).
There's a lot to unpack about that name. Spring of the vineyard.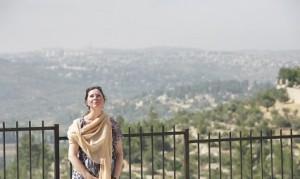 And then there is that final climb. The Church of the Visitation is up on the hill, and by now, I have developed the kind of endurance that permits one to run up this final part of the journey.
Elizabeth and Zechariah await. Actually, they have no idea we are coming—no texting ahead. No email available back then. Not even snail mail or phones. Mary and I will just show up. Unannounced.
But the Holy Spirit knows we are coming—and an unborn John the Baptist is about to leap for joy.
I think of this little family. Three who will find their paths to sainthood because of this One who is to come.
Who came.
Who will come again.
On June 24th, we will return to Nazareth with Mary. I had never thought about that part of Mary's journey. I didn't even write about it in the book.
How could I have missed that part? It makes me groan inside a little when I think about it. That had to be the hardest part. The journey back, not knowing how Nazareth would receive her, perhaps the most joyful moments behind her (the Annunciation & the Visitation).
And now, I want to make the journey with her back to Nazareth. I want to keep her company on the harder of the two trips.
Tomorrow would normally be the celebration of the Feast of the Visitation.
This year, the 31st of May falls on a Sunday. So, we will be celebrating the Solemnity of the Most Holy Trinity and not the Visitation.
But about 500 people will be making their final journey up the last hill of Judea near Ein Kerem. They will be thinking about a woman who is …
… the daughter of God the Father;
… the mother of God the Son;
… and the spouse of God the Holy Spirit.
Somehow, the Solemnity and the Feast will merge for them, and it will make sense.
We have experienced the first Christ-centered friendship of all time, right here, between Mary and Elizabeth.
We have witnessed a divine Visitation, for the Father has come.
The Holy Spirit has anointed an unborn John.
And the Son is taking on flesh.
At the Spring of the Vineyard.