A number of years ago, I taught religion in a very small Catholic school. The students ended their daily Rosary with the Morning Offering.
Oh, my Jesus, through the Immaculate Heart of Mary, I wish to offer all my prayers, works, joys, and sufferings–all that this day may bring, whether good or bad–for the love of God, the conversion of sinners, in reparation to the Sacred Heart of Jesus, and for the prayer intentions of the Holy Father, Pope …
At that time, the Holy Father was Pope Benedict XVI.
I still begin my day with the Morning Offering–before I even get out of bed. And I think about those students. It makes me smile. When I started teaching at that school, the students prayed that prayer without having any idea what the Holy Father's prayer intentions were–or that they changed every month. That was the first line of business. Every month, I posted the new intentions, and I made sure the students knew them.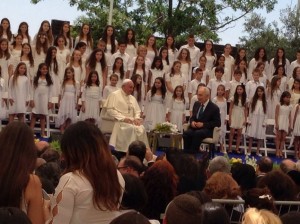 In case you pray the morning offering (and in case you are also unaware of the prayer intentions), here are the Holy Father's intentions for the month of June.
Universal: That immigrants and refugees may find welcome and respect in the countries to which they come.

Evangelization: That the personal encounter with Jesus may arouse in many young people the desire to offer their own lives in priesthood or consecrated life.