It feels like we have been here three days already. But we landed in Warsaw earlier today.
That's pilgrimage. You pack so much into it all that the whole thing is a blur. A good blur. A gloriously grace-filled blur.
We sat at the dinner table tonight and I was too chatty. I should have shut up a bit and listened more to the people around me. I find myself reflecting on the meal and kicking myself. Dang, when will I learn to be more of a listener?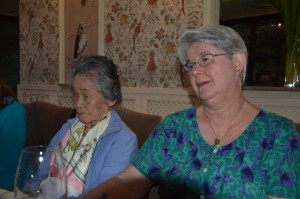 One woman is from Japan. She needs a little help getting around. She sat beside me a few times on our no-kidding-luxury-bus-that-would-make-a-rockstar-jealous. Tonight at dinner, she talked about Hiroshima. She was there. She's Catholic–because of the Jesuits. Man, I wish I had heard more of her story.
At the other end of the table is a priest, not the spiritual director on the pilgrimage. He's another priest who just wanted to experience some divine mercy. He is experiencing it alright. The outpouring of love that is making it possible for this priest to be mobile enough to see Poland and pray at the holy sites defies description. It is God's love in action – on both ends.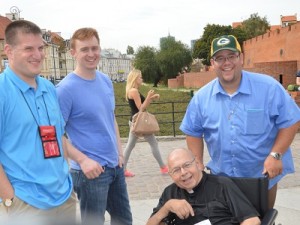 And then I had the privilege of talking about the faith with the man across the table. Again, I should have listened more, talked less, let the Holy Spirit lead me. I'm such a chatty Cathy when I think I might have something to contribute. If I might have something to say that prompts a revelation or conversion or mini-epiphany, I want to knock it out of the park. Sometimes, people just want to talk.
Lord, have mercy. I can't even tell if I was doing what I was supposed to do today or failing a bit.
Teach me to listen. To speak a little less. To be more present to others.
And thank you for Poland, the land of mercy.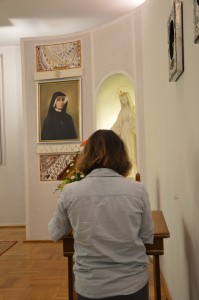 Totus Tuus!