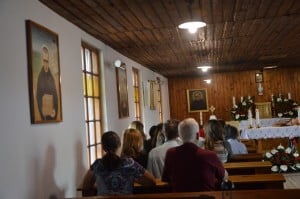 In Warsaw, you will find this little church. It is part of the Franciscan Monastery  of Niepokalanów founded by St. Maximilian Kolbe. His relics are there.
Wait. How could they have relics of a man martyred at Auschwitz? A man burned up in the incinerator?
Ah, those around him knew he was extraordinarily holy, so they saved some of his hair when he was shaved and got a haircut.
Mother Church wanted to preserve a piece of her little son. So She made sure there was a lock of hair in the "baby book" – or something like that.
And today, you can pray the Mass at this little church. At the front, to the left of the altar, there is a picture of St. Maximilian Kolbe. To the right of the portrait, there is a gold relic keeper. People who have been Catholic far longer than I have probably know the name of that golden relic container. All I know is that you feel the presence and holiness of St. Maximilian Kolbe when you are there.
I came into the Church ten years ago, on his feast day. It was August 14, 2005.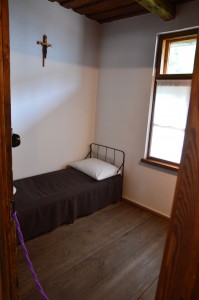 This was his room. Not a fan of the Home and Garden Channel, I'd say. But when you are tired, that's all you need.
A horizontal space. A pillow. And an image of Our Crucified Lord to remind you that it's all about giving yourself away–for Christ.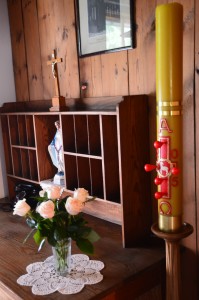 On the other side of his room, there is a desk, for nights when a saint might have insomnia. I'm like that when I'm on pilgrimage. I can't sleep. I go-go-go all day and process everything until three in the morning. It's only midnight now. It's still early. So, I'm writing and scanning pictures from the day. Pictures like this one from St. Maximilian Kolbe's room.
And I see things in the picture that I didn't notice when I was there.
The Immaculate Conception is there.
Gee, I almost didn't come into the Church because I didn't believe Mary was the Immaculate Conception. I presented her with an impossible petition. She answered that impossible petition. And I knew two things instantly. She is the Immaculate Conception even though I once thought that was heresy. My thinking it was untrue didn't make it untrue. What God has done, is done. My belief or unbelief has nothing to do with it.
But I told you that I knew two things instantly when Mary answered my petition within twenty-four hours of placing it before her. And the second thing I knew was that she is my Mother. She knew me like a mother knows a daughter and anticipated what I would ask of her before I even asked it. She set everything in motion for it to come to pass. She worked on that surprise for days before I even asked her to show me who she is.
And the image of the Immaculate Conception was in St. Maximilian Kolbe's room today. He loved the Immaculata. And he wanted nothing less than to bring the whole world to Christ through the intercession of the Immaculate Conception…
Even a little girl from Iowa, born into a preacher's family, raised on Protestant evangelical principle. A girl who didn't believe in the Immaculate Conception and couldn't find Poland on a map until she was an adult.
Take another look at the picture above.
There are roses there. Mary and roses just go together. Every Catholic knows that. Even a convert like me knows that.
But look again. Detail-oriented people, you will see it first.
What in the world is a Paschal Candle doing in St. Maximilian Kolbe's room? I have no idea. But I took note of the year as I was scanning pictures this evening.
2005.
The year I came into the Catholic Church on the Feast of St. Maximilian Kolbe. How is that for God's mysterious ways?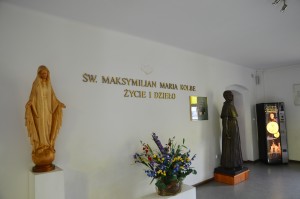 So, I turned ten years old in the Catholic Faith a few days ago. August 14, 2015.
And I'm marking that spiritual journey by another journey which we call pilgrimage. Today, I saw the convent of St. Maximilian Kolbe. Tomorrow, after about three hours of sleep, I will see the cell at Auschwitz where he died for another man.
According to the Jewish Virtual Library, St. Maximilian Kolbe provided safe shelter for refugees during World War II, including hiding 2000 Jews from the Nazis.
So what does that have to do with me?
Is his connection to me merely a series of coincidences?
Is it a random turn of events that I entered the Church on his feast day in the same year as the Paschal Candle sitting on his desk?
Is it a fluke that he loved the Immaculate Conception and wanted to bring everyone to Our Eucharistic Lord through her–and I almost didn't convert because of her?
Did he run a few errands for Mary on my behalf so that my petition would be fulfilled, and I would know? Forever and completely know? I have a Mother.
She knows me.
She loves me.
And what about the whole connection to the Jewish people? Does that have anything to do with me?
Ah, I believe it does.
A Saint talked to me today.
What did he say? Well, that is our little secret. And we will all have to wait for that final piece to fall into place. But I've learned that the Lord is really good at doing that–getting all the pieces to fall into place.
And only one more piece is needed for the next phase of my life to begin.
Thanks be to God!