Last weekend, I got to do one of my favorite things at one of my favorite places: teaching a Pagan retreat and only an hour away from home!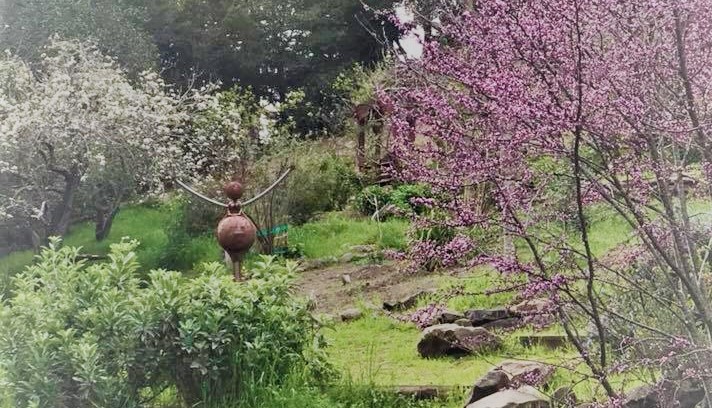 Earth Matters Retreat Center is a gorgeous, off-grid, 100+ acres in the Santa Cruz Mountains. There's a wood-fired hot tub, multiple sacred fire circles, teepees, a beautifully appointed guest house with dorm style beds, and so much more. To top it off, the owners of the land really consider themselves to be stewards, listening for what the property wants and needs and responding with new trees, ponds, and medicine wheels. The wild beauty of this place is a perfect setting for exploring the wild beauty of our souls!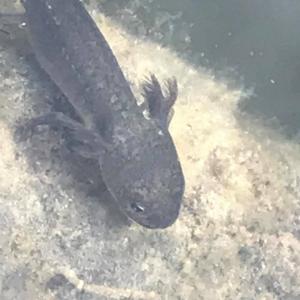 I have taught several retreats at this location and it's always amazing. The land itself is so very present, the voice of birds cutting into a meditation at just the right moment, or a shaft of sunlight crossing someone's face; the dog's barking reminding us to be aware, or the rooster crowing in his pride.
I was there to host the first Secret Country of Yourself In-depth Intro Retreat. We started on Thursday evening with dinner and some preliminary energy exercises, then dove right in to a very full weekend of self-exploration and self-healing. By the time we finished up on Sunday afternoon, I think I can safely say that we were all exhausted and very full of food for thought.
This particular retreat turned out to be smaller than I'd anticipated, and all the attendees were women. My beloved husband, Matthew served as a most excellent cook, dishwasher, and fire-tender, appearing when we needed him and wandering on his own Ways when we didn't. What a gift that was!
I was very open to having men attending the retreat, but I also feel that there is something especially magickal that happens when a group of women gather together to do this sort of Craft. (One of the things we discussed was how this sort of activity doesn't have to be WORK and it's not really PLAY, but a way that we are learning how to become more skillful at life, hence 'craft'.)
Each person there had a gift of their own to share. Some of the gifts weren't comfortable. One of my beloved sisters and I had a big misunderstanding that caused us both to become frustrated, even angry. Perfect for the morning when we were going to visit the Shadow House.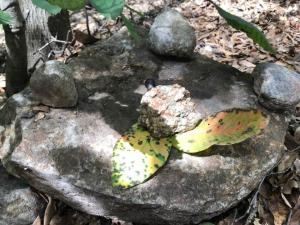 Then there were the naturalists, the poets, the photographers, the teachers, the artists. We were all a little bit of each of these throughout the weekend, reminding each other to recognize that the whole Universe is a conversation between God/god/Spirit/spirits and us. Reminding each other to listen deeply and feel strongly.
The thing I love so much about teaching within the retreat format (multiple days engaging in some sort of spiritual practice) is how everything that happens informs our experience. I start with a schedule in mind, and we mostly go in order, but we also make time to really dig in to a 'teachable moment'. And when I say that, I mean teachable for all of us, myself included. When my sis and I had our little tiff, I got mad. I very rarely get angry and especially not with my friend, and I didn't know how to act. So I simply said what was true for me, got a reality check from the group, listened to her, and went on to get to the heart of the issue. Spoiler alert: it wasn't where we started.
Also, I recognized once again the many different styles and ways of moving within a guided meditation. Some folks had tears in unexpected places. Others had surprising visitations. Sometimes it was both.
Some really liked spending time in the Sanctuary and wanted to draw that part out. One of the retreatants, very skilled with trancework, just wandered where she wanted, often getting way ahead of my instructions. She said that those who liked to meander were willful, which I thought was awesome. My policy (especially with the Secret Country) is you-do-you. Though Willful Meditators does sound like a cool band name.
There are lots of other cool Secret Country of Yourself opportunities coming up.
In the fall, I'm starting up a 9 month long in-person training here in Santa Cruz which I'm very excited about. We'll meet at a secret location for a day-long retreat then have support phone calls between, as well as a dedicated online group for participants.
Also, to be scheduled: webinars and other online opportunities for working with me on your Secret Country!
AND last but not certainly not least, I'm in the process of designing a line of candles and other items to support what has always been the primary mission of my Craft: exploring the wild beauty of your soul.
There. That oughta keep me off the streets for a while.
All original photos by the most kind and excellent Willow Munger.