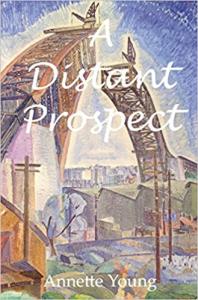 A colleague's wife noticed that I had on my shelf A Distant Prospect, a novel set in 1920s Sydney, written by my friend Annette Young. To my shame, it was one of a long line of books that I had bought, put on the shelf and had intended to read before sidelining it for reading more related to work. After a few years of delay, I finally picked it up and cracked it open.
The novel looks at the life of Lucy Straughan, a recent Irish arrival that came with a brogue, a noticeable polio-induced limp, awkward focus on maths and an independent streak. What becomes apparent by the second chapter, however, is her becoming ostracised by those in her school, most noticably by the other students. In a few short lines, Lucy's isolation becomes nothing short of palpable. If one is ever bullied in school, one can quickly relate to this aspect of the book's protagonist.
That isolation sits very heavily as one goes through the otherwise easy to read first few chapters. It's setting in a Catholic school accentuates that isolation, as this educational extension of the Church, what should have provided a safe haven from this isolation, fails to do so. What does break the isolation, however, is the playful intrusion of a schoolgirl playing hide-and-seek who, without prior evaluation, befriends and takes Lucy in. Slowly, a process of a gathering of friends takes place which, bit by bit, breaks down Lucy's open-air confinement.
Not having read too far into this novel, I found this aspect of gathering as an act that saves really resonated with me. It reminded me of a homily made in Duke Divinity School, in which he said that salvation in the Old Testament, before it is a detached assent to creeds, was a visceral gathering into a people. In the New Testament, that process of gathering continues in the work of Christ who, in his ministry, Passion and resurrection, "draw[s] all things to [Him]self" (Jn 12:32).
As a sidenote, this point of gathering is also developed upon in Redeeming Flesh, in which I put forward the case that part of the appeal of pop culture (zombies included) comes from an ostensible fulfilment of the need to be gathered into something larger than the individual. The draw of the beauty of communion, far from being a distraction from the truth of a creed, is actually its primordial, visceral and experiential outworking. As a side-sidenote, I thought I'd bring up Redeeming Flesh again as we get closer to Lent, since the book began it's life as a lenten retreat for seminarians.
As the end of Lent inches towards our horizon, together with its call for repentance, one thing that I have become convinced to confess is the ways in which I contribute to counteracting the Church's work of gathering all up into Christ. Whether it is through my lack of forgiveness to those who have wronged me, through my criticism of those whom I regard as holding wrong or stupid opinions, especially of those within my Church, when I do that, I stall the process of gathering, and in so doing, stand in the way of the process of salvation.