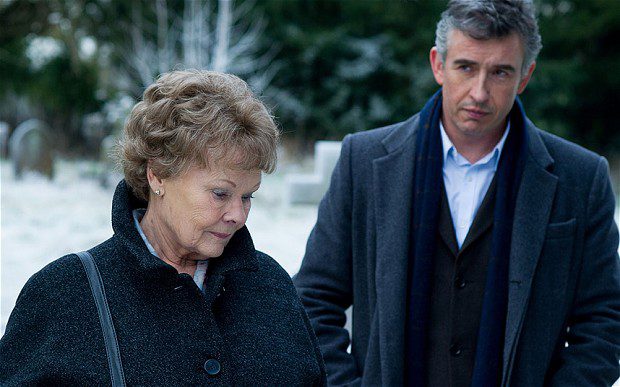 While much of the Oscar race has centered around 12 Years a Slave and Gravity, a much quieter (and more profound) picture slipped into theaters.   Philomena is a modest, true-life story about a woman in search of her adopted child.   It chronicles the horrific abuse doled out in the Magdalene laundries overseen by the Irish Catholic Church.   And yet, Philomena is one of the most faith-affirming films of the year, a paean to earnest spirituality amidst a (justifiably) cynical age.   It offers a road trip definitely worth taking.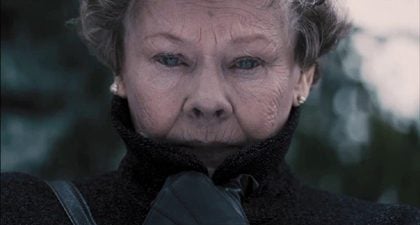 As Philomena Lee, Judi Dench delivers a performance of startling stillness, a master class in acting that doesn't demand attention—she simply earns it.    Philomena's dramatic foil is a disgraced reporter, Martin Sixsmith, slumming it on the most loathsome of assignments, "a human interest story."   British comedian Steve Coogan portrays the intellectual Oxbridge-trained journalist as an acid tongued skeptic.    He initially looks down upon Philomena and her abiding Catholic faith that he left long ago.
Martin's investigative skills guide Philomena on the trail to find the son who was stripped away from her, fifty years earlier, by the nuns in Roscrea, Ireland.   Philomena revisits an ugly era in the Catholic Church when unmarried mothers and their children were sent to "Magdalene laundries" to wash clothes for hotels, the Irish army, and even the Guinness brewery as an extended form of atonement.   A lifetime of servitude and a broken heart became the payment for wanton teen lust.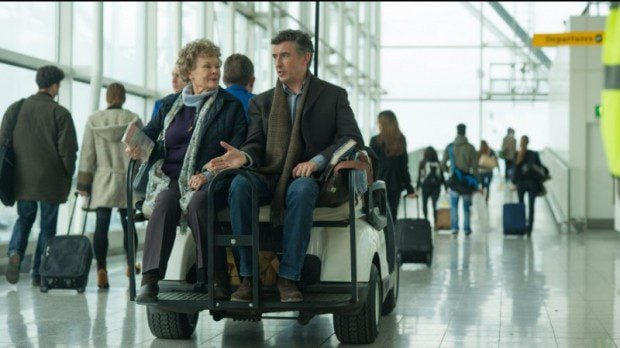 What could dissolve into a grim recreation of a painful era instead becomes a surprising and meaningful journey for Philomena, Martin, and the audience.   The adapted script by Coogan and Jeff Pope focuses first upon the skeptical Martin.   He stands in for viewers, expressing his disdain for the "Sisters of No Mercy" who separated mothers and their children for profit.    As a former member of Tony Blair's government, Martin is used to running in circles far above Philomena's simple, working class.   A surprising warmth develops between Philomena and Martin.    She helps him to discover that "Just because you're sitting in first class doesn't make you a first class person."   Director Stephen Frears (Dangerous Liasons, The Queen) exercises restraint whenever possible, with still upper lips making her courage and resolve much more powerful.  Philomena becomes a model for Martin and us all.
While Philomena is able to distinguish between the loathsome actions of some nuns and the core truth of her faith, some critics have not.  They condemned the film as a Catholic bashing diatribe.  Yet, nothing could be further from the truth or the spirit of the film.  It recounts what happened, but goes to great lengths to demonstrate that such horrific actions by a few need not undermine belief.   Surely, grace and forgiveness can also extend back toward a church that has proven as fallible as any institution.   Forgiving does not mean forgetting.
Like concerned parents defending their children, the Weinstein Company recently made Philomena and director Stephen Frears available for a screening and discussion at the Musuem of Tolerance.  I was eager to join the conversation hosted by KPCC's Alex Cohen and featuring Diane Winston, Knight Chair of Religion and Media at the University of Southern California.   Given the setting, one might have assumed that the conversation would become a diatribe against religious intolerance.
Let's face it, the Roman Catholic Church has been on a remarkable run of bad press rooted in some reprehensible actions.   Pedophile priests and nuns selling babies do not engender much love and respect.   Neither does cover your tracks.   Where such blatant abuse occurs, lawsuits and official apologies eventually follow.    So the positive press and new found respect generated by Pope Francis couldn't have arrived at a more crucial time.   With the designation as TIME's "Person of the Year," Pope Francis has rebranded Catholicism as concerned for the poor and moving past the culture wars of his predecessors.
With Alex Cross guiding the conversation at the Museum of Tolerance, Diane Winston placed Philomena in historic context.  For my portion on the panel, I stressed how the film held up a seemingly ordinary woman as a heroine.  Philomena reminds me of my mother's ability to persevere and even thrive despite personal tragedy.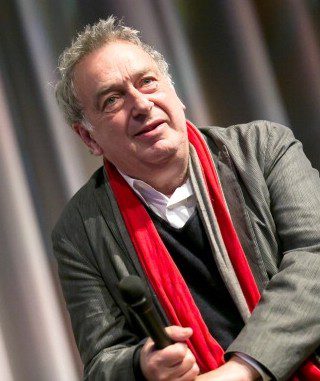 The quick wit of Stephen Frears demonstrated why his moves are so wry and brimming with life. Frears connected the skepticism of Martin Sixsmith's character to the questions that Steve Coogan still carries as a lapsed Catholic.   Frears also admitted to no particular religious feelings or inclinations whatsoever.   Perhaps his own lack of faith enabled him to portray Philomena's faith without any particular quirks or biases.    She steadfastly believes despite all the things that have occurred in her life.    And while an art-house audience (or the savvy crowd at the Museum of Tolerance) may not share her convictions, they are challenged to move past their own biases against the faithful.   
Who has the most to learn from Philomena?   It is the skeptics who are dared to shift in their thinking, to move past the snap judgments that dismiss Catholicism because of a very bad few.    Yes, the Catholic Church must not tolerate pedophile priests or abusive nuns.   But those who cling to a fundamentalist form of doubt may find that Philomena offers an insightful challenge to their blind (non) faith.
While religious and cultural rifts continue to divide us, Philomena brings audiences together in both outrage and in healing.    Philomena affirms the bond of mother and child, the precious gift of life, and the necessity of forgiveness even in the face of atrocities.   What a rare and timely gift for the New Year.