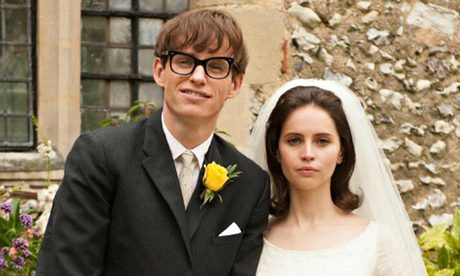 British accents? Check.   Period clothes? Check.   Physical demanding role?   Yes, The Theory of Everything is definitely Oscar bait.
While the title suggests a scientific treatise, The Theory of Everything actually delves into the mysteries of love and devotion. It is a celebration of the remarkable woman behind the renowned astrophysicist Stephen Hawking.   Jane Wilde provides a dramatic counterbalance to the magnetic mind of the famed cosmologist. While he may have "a slight problem with the whole celestial dictator premise," Jane is unwavering in her dedication to the Church of England and the practice of prayer.   When Stephen is diagnosed with motor neurone disease, Jane rallies to his side, lifting him out of understandable depression.   She becomes the rock of support that enables him to plunge ahead with his relentless search for "one simple elegant equation to explain everything."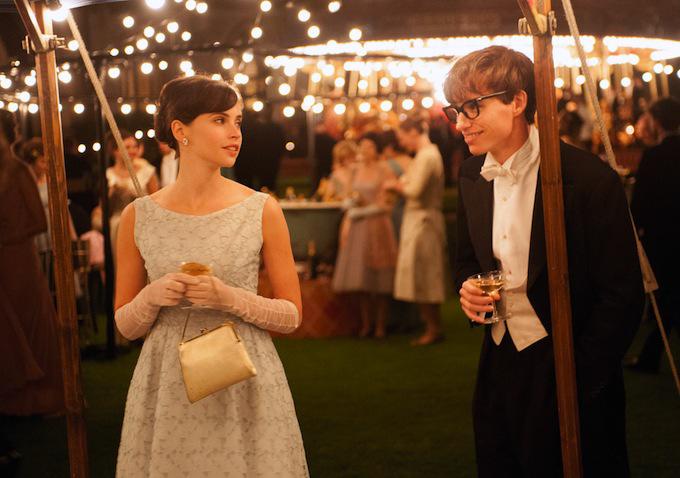 The Theory of Everything offers an evocative trip back to Cambridge University circa 1963.   An air of anticipation and possibility bursts from Stephen's pliable mind. Jane's interests lean towards medieval poetry and the metaphysics of William Blake. At the May Ball, they sneak away to stare at the stars. Jane evokes the poetic opening of Genesis, "In the beginning."   Stephen wants to find a formula to fix that point in time, but for now, loves makes him dance. The arts and sciences make a remarkably cute couple.

His research into the nature of time takes an unexpected twist when ALS leaves him with only two years to live.   Stephen seems crushed by a sick cosmic joke.   Yet, Jane rises to the challenge of caring for Stephen.   She presses on toward marriage despite parental concerns, admitting, "I don't look terribly strong, but I love him and he loves me–we're going to fight this illness together."   The Theory of Everything chronicles the twenty-five years of marriage and three children that Stephen and Jane raise together.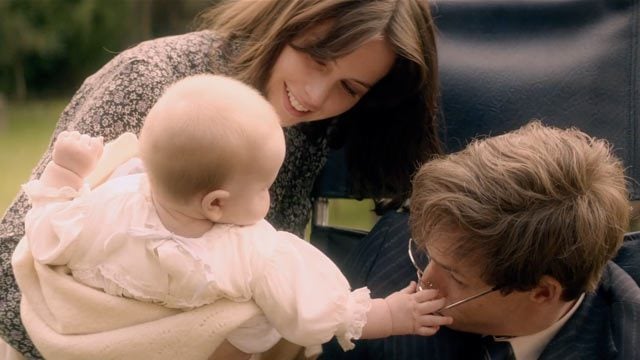 The Hawkings' story bears similarities to acclaimed biopics like My Left Foot (1989) and The Diving Bell and the Butterfly (2007). It leans more towards the gritty realism of My Left Foot than the artistic flourishes of Diving Bell.   As Stephen Hawking, Eddie Redmayne contorts his face and body in remarkable ways.  Each harrowing phase of ALS comes with particular challenges (and more advanced wheelchairs).   Eventually forced to communicate without speech, Redmayne portrays Hawking with a twinkle in his eye throughout the long, challenging ordeal.
As Jane, Felicity Jones adopts a stiff upper lip, struggling to balance the demands of three children with Stephen's degenerating condition.   Stephen watches her pray, sensing how much weight his condition casts upon his dutiful wife.   A handsome church choirmaster provides the physical and emotional support that Jane clearly needs. Jonathan Jones carries Stephen's failing body and wrestles with their kids. Having lost his wife to leukemia, Jonathan seeks healing of his own. Music and caregiving become the means for Jonathan to process his grief.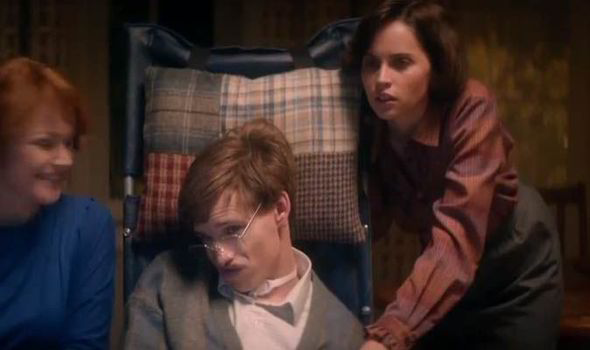 The Theory of Everything shaves off some of the prickly edges that undoubtedly challenged the Hawking's marriage.   Perhaps we cannot expect an unvarnished view of characters still very much alive. Rather than relying on special effects to convey complex scientific ideas, director James Marsh and screenwriter Andrew McCarten keep the story grounded in domestic decision-making.   Even the brightest minds are still subject to our bodily limitations.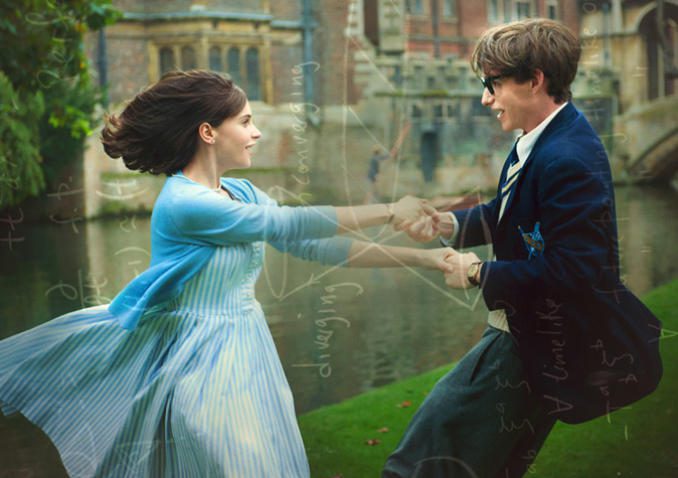 Perhaps the greatest gift offered by this generous film is how it models civility.   American filmmakers might have heightened the tension between science and faith or overplayed the specter of infidelity.   Instead, we're invited into an ongoing dance between a husband and wife with divergent worldviews.   Perhaps the greatest twist is to discover that we might grow to appreciate each others' beliefs at the same time we're drifting emotionally apart.   Love doesn't conform to reason.   The Theory of Everything shows us that what we think may be less important than how we express our devotion.  Our theories must ultimately be put into practice.
"Let's not just talk about love; let's practice real love. This is the only way we'll know we're living truly, living in God's reality."—I John 3:18-19, The Message