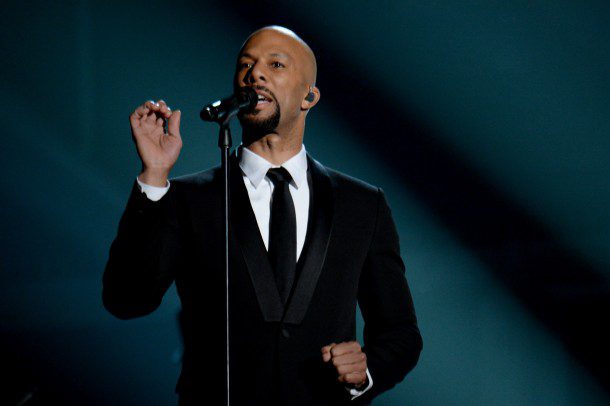 What 2015 Grammy moment moved you?   Kanye West's cut in on Beck's acceptance speech for "Album of the Year" garnered most of the headlines.   How sad to a stunt overshadow Annie Lennox's rousing rendition of "I Put a Spell On You" with Hozier.   Pharrell reimagined his sunny single, "Happy," into an intriguing protest echoing the "Hands up/Don't shoot" posture that accompanied events in Ferguson, Missouri.   Prince slipped in the best one-liner of the night, "Albums still matter. Just like books and black lives."   Beyonce honored the memory of Michael Brown and Eric Garner in her angelic rendition of "Take My Hand, Precious, Lord."   The African American male choir accompanying her underlined the loss.
The most inspiring Grammy performance didn't even get recorded on my DVR.   Common and John Legend closed the show after the allotted time slot with a rousing rendition of their Oscar nominated theme from Selma, "Glory."   (You can see their rousing performance here.)  Common's lyrics connects the dots between Rosa Parks and Ferguson in compelling ways. I had the opportunity to interview Common and ask him about Selma and "Glory."
How was your experience working on the film Selma?
"This for me has been the most inspiring and fulfilling film that I ever got to be a part of. In fact, this is definitely one of my most fulfilling experiences in life. As a creator and actor this is something that I'm marking down and saying, "Thank You."
How did you prepare for your role as pastor James Bevel?
"I read about James Bevel—where he came from and who he was and was blessed to talk to some people who were part of the SCLC. They all talked about James Bevel as this brilliant, crazy dude. This radical who wore overalls because he was a man of the people. I really connected with him and just the whole plight of standing up for what you believe in and being willing to die for what you believe in.
Ambassador Andrew Young told us that one of their key things was, "How they What are you willing to die for? Live for that." That's how courageous those men and women were. Not only am I using that in this scene to express this character, this is going to help me in life. I can fall back on certain things I need to value: purpose in life.   These were just everyday people who lived with purpose—from teachers to sanitation workers—willing to stand up for their community."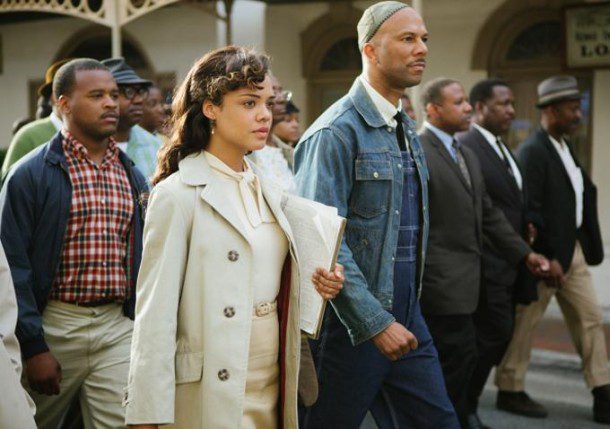 What did you learn from making the movie?
"I'm always was asked what type of character would I love to play, and I always said a pastor. I wanted to play a more conflicted pastor. James Bevel wasn't perfect. Dr. Martin Luther King and Ralph Abernathy weren't perfect. That's what I loved about getting to experience this film. You got to see the human beings.  When you see a human being that becomes as great as Dr. Martin Luther King, you know you can do it, too."
"The spirituality in my music, the experiences that I went through as a person – they, all that prepared me to be able to play a pastor, because, you know, my foundation is God and my spirituality. But I also know that I'm human. You know, I make flesh mistakes just like the best of us. I mean that's really what prepared me more than anything.
My heart is in helping out the community. I am a black man who is proud to be black and I want to help the black community, but I love all mankind. That's basically who Dr. King and the SCLC were."
How did the opportunity to write the Oscar nominated closing song, "Glory," come about?
I got the role, we filmed the movie, I had the experience, and got to know what this whole story of Selma was about.   Director Ava DuVernay and I were talking and she said, "I'm open to you doing a song." I had this moment when I was sitting at home. I thought about John Legend.   He captures a certain spirituality and soul that you want to hear in that voice.   Ava picked people that really cared about this project. To ask John Legend, I knew he would really care about this project. He does his own work in the community with schools and education. So I just gave him a call. We talked about the film and I gave him three titles, and "Glory" was the last one of the titles I gave him.
John was in London. He had one day off. And he sent this recording of him on the piano and it just sounded like he was in church. It made me know that this song had the intimacy as well as the majesty. So I thought about what can I do to motivate people to want a better world, that showed the heart and spirit of what Dr. King and all the people of Selma really represented and also acknowledged some of these things still going on now. I wanted a song that empowered people to say we fought to get here. So let's keep going, we can win
this fight.   The majestic element came in even more when we got the orchestra with Patrick Warren organizing the strings.
I played it for my mother and she said, "Send me that song." She said it brought a tears to her eyes so I knew it was in the right place.  When I was writing it I was with my daughter, who is seventeen. So I thought I was hitting all levels. This film (and song) can effect the youth to the elder and everyone in between. Ultimately, I am so proud to be part of art that can really inspire people to do better and that's what I believe Selma is about."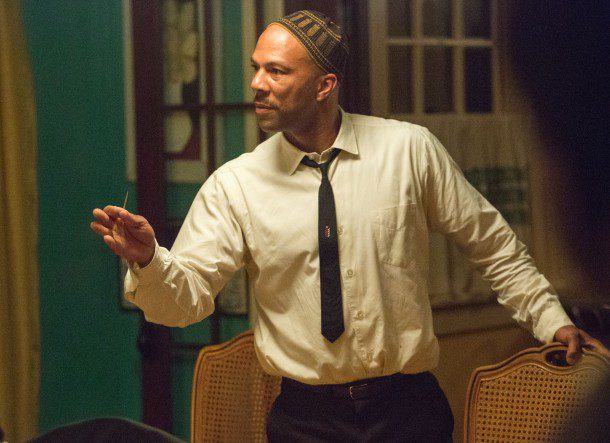 What do you hope audiences take away from the film and the song?
"I hope that young people can say, "You know what? I can do something to change the world 'cause I looked at Dr. King and saw him worried about how to get to the next step, I saw him speaking to the multitudes and inspiring them, I've seen the strengths and some of the challenges for Dr. King, and all these people at Selma, and I have some of those same strengths, and I have some of those same challenges, and I can actually do something – do my part to improve the world. 'Cause, for me, when I see people of my likeness or somebody I feel like that I'm connected to doing something great, I'm like 'Ah, I can do it…I can do it.' It gives me some hope and vision to – so I'm hoping that young people can see that and say 'I can do something to improve the world' and appreciate and know that there's been people before them that created this environment so that they can go higher. Yeah, that's what I want."