The famed evangelist one said, "Someday you will read or hear that Billy Graham is dead. Don't you believe a word of it. I shall be more alive than I am now. I will just have changed my address. I will have gone into the presence of God."
The time has come. We are reading and hearing that Billy Graham is dead. Age 99 at that. It's tempting to be sad about this news. Yet, I find comfort in this important reminder – from Graham himself long before this day came to pass – that he is not, in fact, dead. No, he is very much alive.
It's not wrong to grieve the world's loss. Certainly those who knew and loved Graham personally have a right to be sorrowful. Their hearts are hurting because they won't see their loved one again this side of Heaven. Anytime we lose someone we love, it's okay – it's normal – to be sad. Regardless of how old they are or how old we are. Loss is painful. And we have certainly lost a Godly man who has led untold numbers of people to Christ.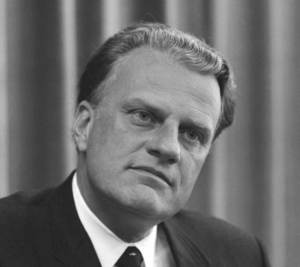 But there should also be a celebration! Graham lived a long life. He had tremendous influence, and his legacy will be eternal. And he is now home. Heaven is his new address. That's where you can find him. You too can one day – when your time has come – pass from this world into the presence of God. We call that death, but truly it is passing into eternity. As you reflect on the life and passing of Billy Graham, take the words of John 3:16 to heart: "For God so loved the world that He gave His one and only son so that whoever believes in Him should not perish but have everlasting life."
Graham once said that he was not going to Heaven because he had preached to great crowds or read the Bible many times. Instead, he said, "I'm going to Heaven just like the thief on the cross who said in that last moment, Lord remember me." Like all who believe, Graham was a sinner saved by grace who placed his faith in Jesus Christ. Don't delay, friends. You have until your very last breath to do the same, but only until your last breath. And when you take that final breath, you, like Graham, can immediately be in the presence of God. Or you can be separated from Him forever. Make today the day of your salvation. And praise God for the life and witness of Mr. Billy Graham.