When our family first saw the previews for the new Wonder Woman movie earlier this year, I was determined that this would be a family-viewing event for us.  I wanted my ten-year-old son to see it.  I wanted my 40-something husband to see it.  I wanted my 14-year-old daughter to see it.  And I wanted to see it.  Our expectations for this film were high and varied.  We were not disappointed.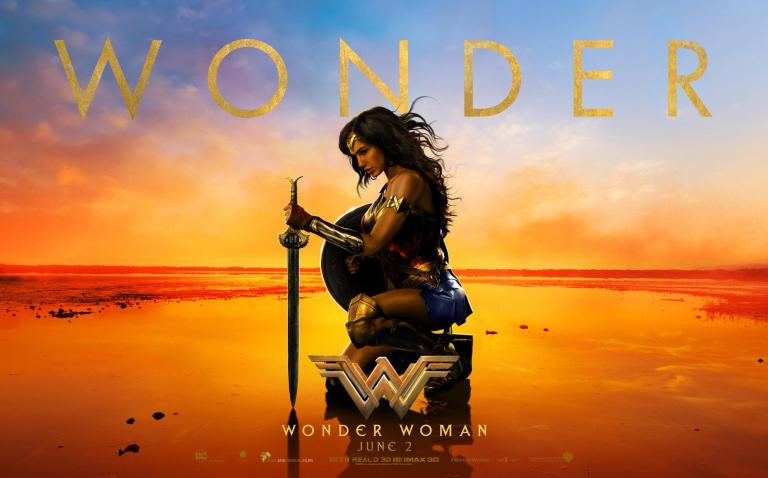 The epic origin-story of Wonder Woman is a masterful fusion of mythologies.
Drawing from elements of Greek mythology, Hebrew legend, and Christian themes, the movie deftly weaves these strands into a film that is a must-watch experience.  Not only does it blend riveting action sequences with clever and cheeky humor, it lifts up themes of female empowerment, the hyper-masculine drive for war, and the journey from innocence to painful awareness and self-discovery.
In the story, Zeus designates the female race of Amazons to fight against Ares, the god of war.  Young Diana trains to become the fiercest warrior on an island paradise reminiscent of the Bible's Garden of Eden.  Their peace is shattered when a World War I pilot crashes into the waters that had hidden them from the outside world.  Diana saves Steve Trevor from drowning, but German troops discover the island and massacre many of the Amazonian women.  Determined to seek and destroy Ares, who she believes to be the cause of the war, she leaves the island forever with the final words from her mother in her ear:  "You are my greatest love.  You are my greatest sorrow."
Not your mother's Wonder Woman
Having grown up on the campy Wonder Woman series from the 1970s, I was relieved to see the move away from the patronizing relationship between Steve Trevor and Diana Prince.  Gal Godot's Diana is a young woman learning the truth about herself, the realities of good and evil in the world outside of her Edenic paradise, and the possibilities of genuine relationship with the man she grows to admire and love.  Chris Pine brings a refreshing reboot to Steve Trevor, alternating between gritty realism and altruistic self-sacrifice that models both humility and, well, wonder.  He is genuinely moved by his relationship with Diana, and it is a joy to watch Pine interact with Godot in ways that are at times boyish, other times tender, while the requisite manly personae struggles to find out where it belongs.
Diana, too, is struggling to find out where and how she belongs.
It's not until she and Trevor are making their way along the Western Front – he to stop the production of a deadly chemical weapon, she to find and destroy Ares – that she begins to claim her own power.  A town is besieged between the Germans and Allied forces in a stand-off that has dragged on for months, leaving the land utterly destroyed.  Diana wants to help the town.  Steve tells her that would only distract them from their mission.  "That's not what we came here to do," he shouts above the mortar fire.  "No, but it is what I came to do," she defiantly replies.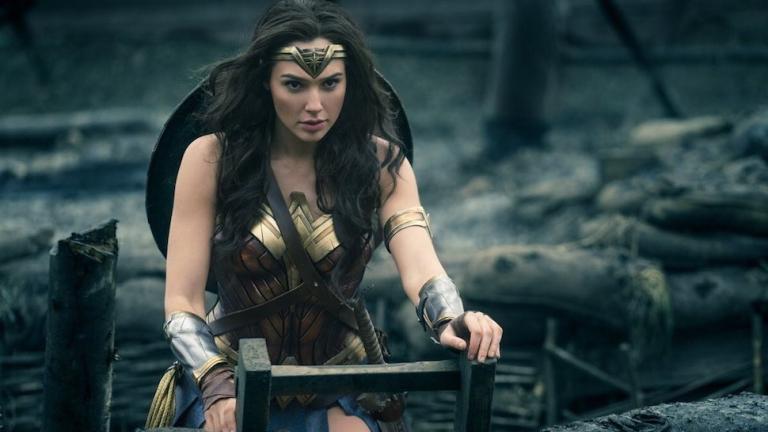 THE moment
I'll admit it: when Wonder Woman climbed up out of the fox hole and slo-mo walked into No Man's Land, drawing the fire power of the enemy, tears stung my eyes.  More than any other moment of the movie, for me this scene was emblematic of what so many women have faced in one form or another: stepping into the "no man's land" of war, violence, abuse, discrimination, and oppression in order to "fight for those who cannot fight for themselves."
In that moment Wonder Woman was the Syrian mother crossing the no man's land of her bombed city, sniper fire all around, escaping the war with her children.  The mother filing a protection of abuse order against her partner.  The grandmothers at Standing Rock facing rubber bullets and water hoses to protect their community.  The black women in the Civil Rights movement facing dogs, gas, and batons.  Alicia Garza, Opal Tometi, and Patrisse Cullors starting the Black Lives Matter movement in the face of systemic racial violence.  The female pastor stepping into the previously male-only pulpit.  The young girl stepping into a STEM classroom filled with mostly boys.  Malala Yousafzai taking a bullet to the brain for seeking an education.  The lesbian couple daring to walk hand-in-hand in public, withstanding a barrage of insults.  The list goes on.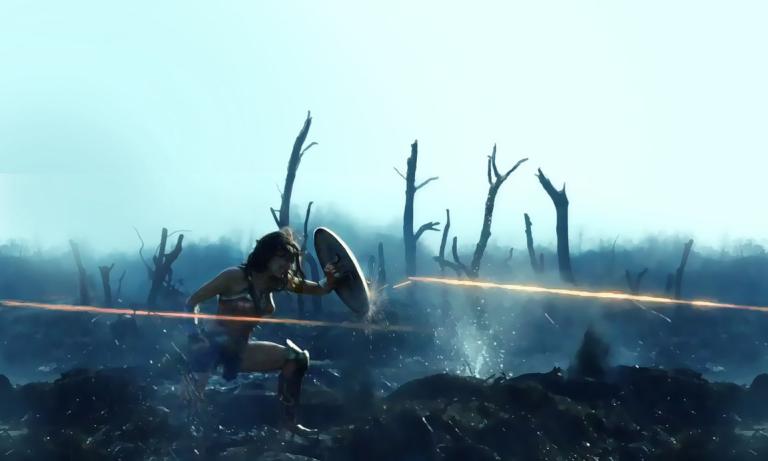 Wonder Woman as Deborah
As I watched Wonder Woman not only withstand every weapon launched against her, but inspire her comrades to rise and join her, I thought of the legendary Deborah from the Bible's book of Judges.  Like the Hebrew warrior-prophetess, Wonder Woman is the only one brave enough to face the enemy.  Deborah was the one who led Barak into battle against the Canaanites who had "cruelly oppressed the Israelites for twenty years," (Judges 4:3).  She offered to draw out the enemy so that they could fight out in the open.  But Barak refused to go unless Deborah agreed to lead the way: "If you will go with me, I will go; but if you will not go with me, I will not go."  To which Deborah responded "I will surely go with you."  A fierce battle ensued and the Canaanites were defeated. (Interestingly, the general escapes, but a woman named Jael kills him by luring him into her tent and driving a tent peg into his skull while he sleeps – another surprising little nugget of female empowerment, violent though it may be).
As my 14-year-old daughter and her friend posed for selfies in front of the movie poster, I noticed these words: "Power.  Grace.  Wisdom.  Wonder."  Sounds a lot like Deborah.  Sounds a lot like countless women I know who step into battle almost daily with power, grace, wisdom and wonder.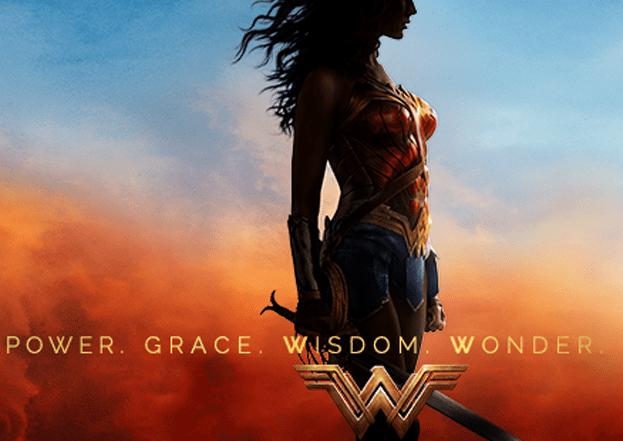 Is Wonder Woman the perfect female-empowerment movie?
Not exactly.  As some have noted, the film does contain many scenes of war violence, which could be seen as a promotion of militarization. Also, the film still based on a strongly heteronormative worldview that privileges the male/female dyad.  The fact that we did not see any evidence of romantic affection among the Amazon women on Paradise Island shows how cautious the writers and director were in pushing the boundaries too far.  Instead, they found humorous winking moments to de-emphasize the masculine tropes.  (Watch for "the watch scene" for example.  And note Diana's schooling Steve about the fact that males are not needed for female "pleasures of the flesh.")
Its few flaws notwithstanding, Wonder Woman rightly deserves accolades as the highest-grossing film directed by a woman (Patty Jenkins), starring a strong female lead who, oh by the way, happened to be pregnant during filming.  Especially in this time when women's rights seem to be regressing on many fronts, the U.S. president was elected despite his predatory history and behavior with women, and one-in-three women will face domestic abuse or sexual violence in their lifetimes, we need inspiring movie epics like Wonder Woman to remind us that women are, indeed, filled with power, grace, wisdom and wonder.
---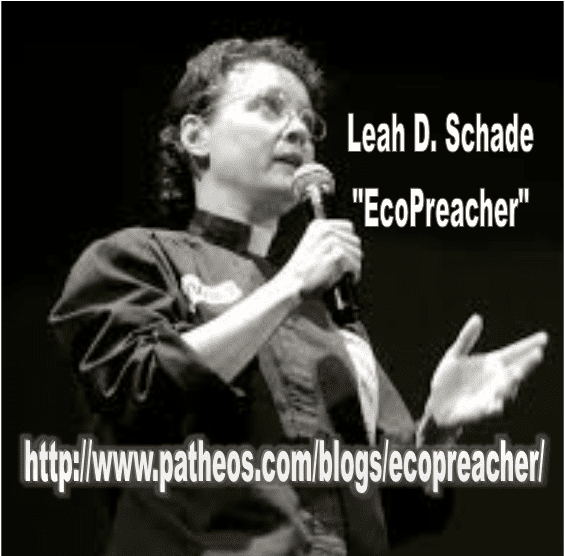 Leah D. Schade is the Assistant Professor of Preaching and Worship at Lexington Theological Seminary (Kentucky) and author of the book Creation-Crisis Preaching: Ecology, Theology, and the Pulpit (Chalice Press, 2015).
Leah will be presenting at the Wild Goose Festival in Hot Spring, NC, July 14 and 15!  Her session info is available here:  http://wildgoosefestival.org/sessions17-24/.  Enter the special code BEMYGUEST for a 25% discount on tickets!
You can follow Leah on Twitter at @LeahSchade, and on Facebook at  https://www.facebook.com/LeahDSchade/.
For more of Leah's posts on women and religion, feminism, and gender, check out these links:
Top 10 Things Never to Say to Your Female Pastor
#MeToo, #ChurchToo: The Church is Facing the Truth About Its Sexism
7 Ways Your Church Can Support Your Female Pastor
Words of Advice for Good Men: #MeToo Meet #YouToo
Jesus, Mother Hen: This is the God I Want to Worship
Book Review: Preaching the Women of the Old Testament
The Case for Recognizing Mother's Day in Church