Since the inauguration of this country's 45th president, I'm noticing edges of what may be a disturbing new trend: friends in the resistence movement are sometimes turning on each other. I fear this is a symptom of a much deeper systemic problem. How should we respond? This sermon was preached at Lexington Theological Seminary on June 21, 2017. Drawing on 2 Corinthians Chapter 4, this is a message for the "clay jars."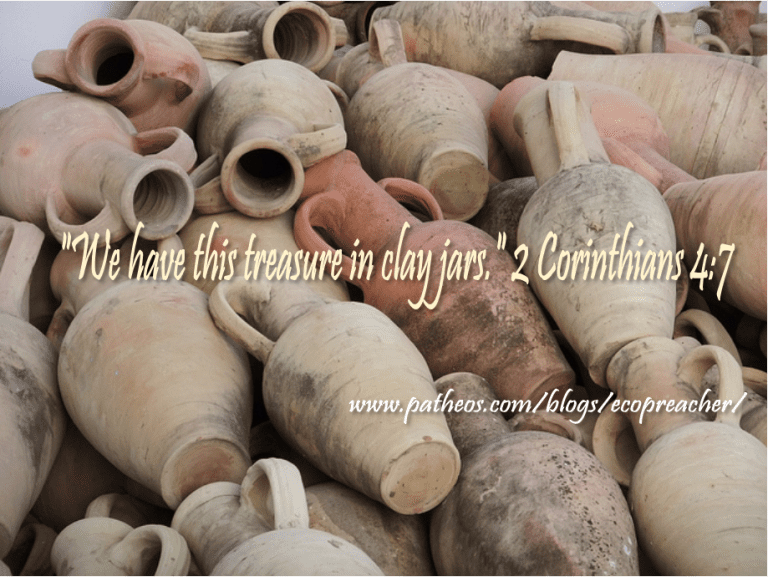 From 2 Corinthians, Chapter 4: 4In their case the god of this world has blinded the minds of the unbelievers, to keep them from seeing the light of the gospel of the glory of Christ, who is the image of God. 5For we do not proclaim ourselves; we proclaim Jesus Christ as Lord and ourselves as your slaves for Jesus' sake. 6For it is the God who said, 'Let light shine out of darkness', who has shone in our hearts to give the light of the knowledge of the glory of God in the face of Jesus Christ. 7But we have this treasure in clay jars, so that it may be made clear that this extraordinary power belongs to God and does not come from us.
---
Building Eco-Ethical Bridges
Environmental advocacy and activism have been part of my ministry for nearly 13 years. In that time, I've observed that most of the people who have been disparaging of the work of my eco-colleagues and myself have been other Christians. These folks claim that Creation-care is either misguided at best, or downright idolatrous and heretical at worst. I used to bristle at being called a tree-worshiper. But I've gotten used to it by now. And, really, I'd prefer some actual tree worshipping to money-tree worshiping.
One of reasons it no longer bothers me that some Christians disparage or attack our work is because of the energy I have received from colleagues in other faiths and even the secular realm. It has excited me that Earth-care has been an eco-ethical bridge between my denomination and others, between interfaith partners, and even between myself and atheists and secular allies. We all know that the future of our planet's survival is at stake, so we build on that literal common ground, common water, and common air to forge new alliances for this Great Work of our time.
Something has changed
But since the inauguration of this country's 45th president, I am noticing edges of what may be a disturbing new trend. A few of the people who I thought had been friends and allies in this Great Work have turned on me. And I fear this is a symptom of a much deeper systemic problem. I'll share two examples.
Some of you may know I have a blog called EcoPreacher on Patheos.com where I write about issues such as climate change, politics, and popular culture from a faith perspective. As you can imagine I get a fair share of nasty comments from Trump-supporting trolls on my site. I'm used to them by now, too. But one piece I wrote was attacked by someone who I thought was my friend and ally. During the time of the March for Science back in April, I wrote a piece called "Religion and Science Can be Besties: It's Time for New Friendships." I made the case that people of faith can draw on the knowledge of science, and science can draw on the ethical values of faith in order to co-inform each other's work as we are facing unprecedented global, regional and local environmental threats.
Didn't see this one coming
But in response to this blog piece, a former colleague published a paper on an academic website that excoriated my premise and spent 12 single-spaced pages insisting that religion can in no way be a friend of science. She shot holes through my attempt to build a bridge between the two realms, and essentially slapped away the hand of friendship I had extended. She insisted that religion itself is the main reason we're in the state we're in, and lumped me in with all the right-wing Christian Trump supporters. What made it so hurtful is that she and I had been close allies in our work in Pennsylvania against fracking and in supporting a community that had been destroyed by the natural gas industry. Now here she was turning on me and my work in a very public way. I do realize that it's actually not about me. I don't take it personally. But it makes me ask:
What's going on here?
Another example: a couple weeks ago I read something in an ecotheological essay that I wanted to share with a friend of mine who is a vegan and a staunch opponent of the meat industry. He and I had had previous discussions about whether or not the Bible supports eating meat or being vegan. So when I found a passage arguing that Christians foregoing animal sacrifice gave evidence of changing ideas about meat consumption among early Christians, I shared it to his Facebook page thinking he would really appreciate the quote. But instead, he responded: "Religions have steered our history to where we are now, none of them have earned a place in our future. The planet is running out of time, and I am running out of patience with lies!"
Only trying to help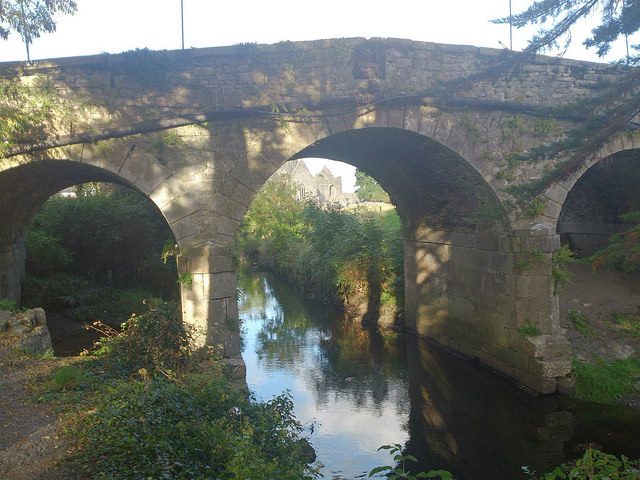 Again, I was only trying to help, to build a bridge, to reaffirm my commitment to our mutual cause of healing our planet and communities – human and other-than-human alike. Instead, he went into attack mode. He said that my religion, my faith, the very aspect of my life that has undergirded my environmental work was not only suspect, but was the reason we are in this crisis.
Certainly he has a point already made famous 50 years ago by an ecotheologian named Lynn White who argued that the Judeo-Christian tradition bears a huge responsibility for the state we're in, and so we must bear the burden for healing the world. But what made my friend's attack so hurtful was that he and I had known each other since high school. He has given helpful encouragement in my move away from eating meat. Now here he was turning on me and my faith in a very public way. Again, I don't take it personally, but it does make me wonder: what is going on here?
Taking hits does not feel good
Before I can wrestle with that question, however, I have to admit that it does not feel good to take the hits. Clay jars can chip and fracture. What do you do when you are assailed by trolls on one side, chastised by fellow Christians on another, and then rebuffed and even attacked by secular friends on yet another side? What do you do when you're attacked on all sides? And all while the Earth continues to burn?
If you're like me, being attacked or criticized (either fairly or unfairly) alternately throws you into waves of self-doubt and anger against your haters. If the critiques are warranted, then we have to do an honest assessment and make readjustments if necessary.
But what concerns me is that former friends are turning on each other. And that creates in me panic-inducing despair about what's really going on here. While we're fighting among ourselves, the Powers continue to laugh and grow rich off the pillaging of the planet and its most vulnerable people.
Been there, done that?
Perhaps you, too, know what it feels like to have the best of intentions, to put your best foot forward, to try to do the right thing, only to be attacked. It can be so draining on your ministry when you know there is a problem needing attention, and you know you need to be focused on your work of healing our world, but you have to defend yourself against the people you thought were on your side. What do you do?
There are options.
One is to give up. Throw your hands in the air and say, "I quit. I'm done. There is no hope. I have nothing left." And sometimes you do just need to take a break, nurse your wounds, and cocoon for a while.
Another option is to attack those who have hit us. But if you're following the teachings of Jesus, you know hitting back just leads to escalation. Retaliation doesn't help anyone.
Yet another option is self-justification. This is my weakness. What often happens for me is that I get sucked into the quicksand of trying to justify myself. But I have found this is futile, because the person has no interest in seeking common ground with me. You can learn from my mistakes on this one – there is no use in flailing with efforts of self-justification when you get into that quicksand. Because the more you move, the more it drags you under, and you suffocate under the weight of a thousand grains of sand.
A more helpful option.
So a fourth option – and the one that has worked for me – is this: be very still and call for help. Only someone who is on solid ground can throw you a rope and pull you out.
For me, scripture is one of those ropes. Time and again over these last few weeks, these words from Paul in 2 Corinthians have echoed in my mind:
8We are afflicted in every way, but not crushed; perplexed, but not driven to despair; 9persecuted, but not forsaken; struck down, but not destroyed; 10always carrying in the body the death of Jesus, so that the life of Jesus may also be made visible in our bodies. . . .16So we do not lose heart. . .17For this slight momentary affliction is preparing us for an eternal weight of glory beyond all measure, 18because we look not at what can be seen but at what cannot be seen; for what can be seen is temporary, but what cannot be seen is eternal. (2 Corinthians 4, NRSV)
"What cannot be seen is eternal."
I know this might seem to be of little comfort now, but your ministry, your work to heal our planet is having unseen eternal effects because it is the work of the divine force of love and goodness, however you may name that force. So even if you are beset on all sides, please keep doing what you are doing. Because you carry the message in the bottle – the treasure in clay jars – to the ones in the future who will need to know what it looks like to not give up, and not to self-destruct with in-fighting.
And let there be no doubt – there will be a future.
Certainly, it will look very different from what we know now. And it will be a difficult, heart-breaking future. But there will be a holy remnant. And they will need everything we can give them to learn how to survive.
We do have to be realistic – this is going to get real ugly, real quick. We are in the midst of an unraveling of our democracy. We are witnessing the rapid feedback loop of climate change and the unraveling of the ecological systems that support life on this planet. It's no wonder that former friends are now turning on each other. That heretofore silent enemies are now coming out of the shadows. And that visible enemies are even louder and more forceful, emboldened by their leaders to speak and act with impunity.
Who's the real enemy?
To use a metaphor from popular culture, sometimes it feels like we're in the Hunger Games where a sadistic and evil power has put us and our comrades into an arena to profit from our fighting each other to the death. So we need a Finnick O'Dair moment where he reminds Katniss: "Remember who the real enemy is." I am not your enemy. I am not here to fight you. We are on the same side. We are fighting for the same thing.
Therefore, since it is by God's mercy that we are engaged in this ministry, we do not lose heart.
Do not lose heart.
And don't go it alone out there. Clay jars are sturdy, but can be broken. Be sure to surround yourself with people who you can trust and who will look out for you. And you do the same for them. Who are your go-to people? The ones who "get" you, the ones in whom you can confide your angst and frustration, but will neither feed into it, nor diminish it. Instead, they will throw you a rope, and help you find the steady ground. Maybe they'll even help point you to the next safe step.
And they will remind you that even when we are afflicted in every way, we are not crushed. When we are perplexed, we refuse to be driven to despair. When we are persecuted, we are not forsaken. When we are struck down, we will not be destroyed.
You are the clay jars carrying the treasure
And if you happen to be a Christian, remember that you carry in your body the death of Jesus. You are carrying the message in a bottle, a treasure in clay jars. Which means the life of Jesus is being made visible in your body, in your ministry, in your blogs, in your protests, in your sermons, in your breaking of the bread, in your love of your enemy, in your care for God's Creation.
Thanks be to God, the light is still shining in the darkness. Do not lose heart! The light is shining in our hearts to give the light of the knowledge of the glory of God in the face of Jesus Christ.
Amen.
---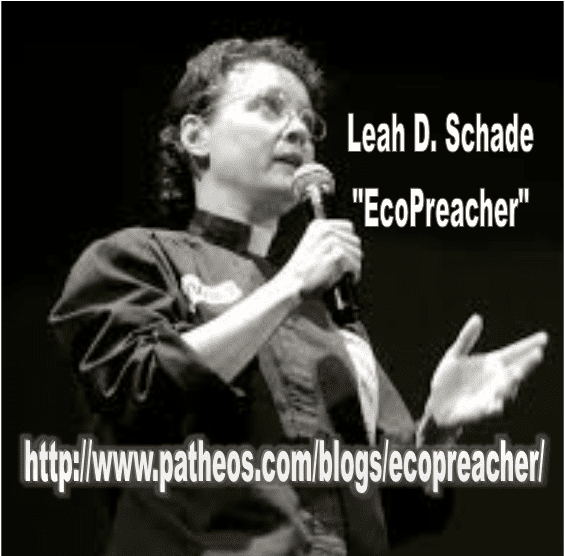 Leah D. Schade is the Assistant Professor of Preaching and Worship at Lexington Theological Seminary (Kentucky) and author of the book Creation-Crisis Preaching: Ecology, Theology, and the Pulpit (Chalice Press, 2015).
Leah will be presenting at the Wild Goose Festival in Hot Spring, NC, July 14 and 15! Her session info is available here: http://wildgoosefestival.org/sessions17-24/. Enter the special code BEMYGUEST for a 25% discount on tickets!
You can follow Leah on Twitter at @LeahSchade, and on Facebook at https://www.facebook.com/LeahDSchade/.
---
Photo credits:
Featured image was created by the author using a photograph entitled "Jars" by Oasty40 on flickr.com. https://www.flickr.com/photos/oatsy40/. Some rights reserved.
"Quin Bridge" by Dave Kavanagh, on flickr.com. Public domain. https://www.flickr.com/photos/142089943@N07/