I've written scads of academic papers, published articles, and even a book.  But nothing to this point is as cool as having my essay about the movie Blade Runner 2049 as cli-fi and race erasure published in the book, Cyberpunk Nexus: Exploring the Blade Runner Universe.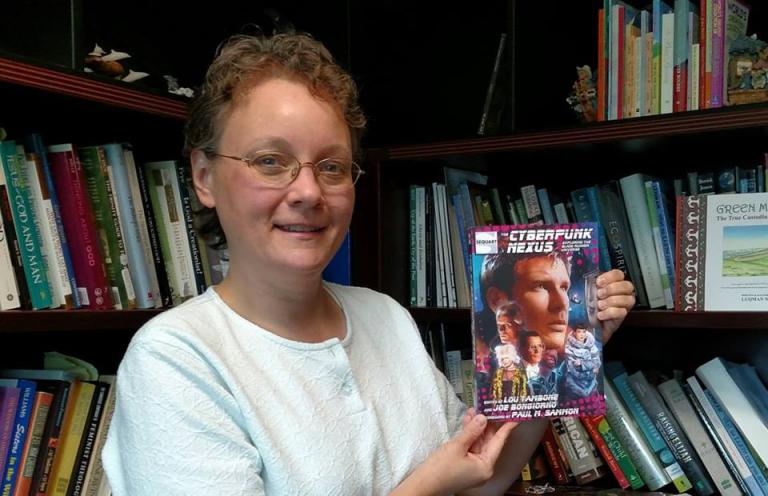 Blade Runner (1982) and Blade Runner 2049 are my favorite movies of all time.
I have nerded out on the first movie since I was a teen.  As an adult, I've written blog posts about them. [See: Do You Like Our Owl? 'Blade Runner' (1982) and Climate Change and Blade Runner 2049: 5 Star Review.]  So when I was invited to contributed a chapter to this anthology edited by Lou Tambone and Joe Bongiorno, published by Sequart Organization, I jumped at the opportunity.
With 416 pages of 27 essays, plus a forward by Paul M. Sammon (author of Future Noir: The Making of Blade Runner), the book examines the entire Blade Runner saga, from the original novel to its numerous movie versions.  The essays take a critical look at all aspects of the Blade Runner franchise, including Philip K. Dick's book upon which the movies are based (Do Androids Dream of Electric Sheep?), the music, comic book spin-offs, and film iterations.
This collection has intellectual and philosophical heft. Essayists explore themes such as the meaning of life, death and dying, science and technology, and love.  My essay takes a critical look at the films through the overlapping lenses of race theory and the emerging sub-genre of cli-fi (climate fiction – sci fi that deals with climate disruption).  Here's a teaser with the essay's introduction.
"Skin Jobs and Snow Jobs: Blade Runner 2049 as Cli-Fi Noir and Race Erasure"
What I first noticed about Blade Runner 2049 is that it feels like the original Blade Runner. Denis Villenueve's cinematic masterpiece of "future noir" layers superb visual effects upon an absorbing storyline peopled with fascinating characters who wrestle with poignant religious and philosophical themes.[1] Visual and aural "quotes" from the original 1982 Blade Runner film are embedded into stunning, high-concept scenes to create grim, poetic beauty worthy of Ridley Scott's original dystopian vision.
Flying cars swoop across vast desiccated landscapes. Glowing umbrellas and oversized neon ads illuminate garish urban city-scapes.  The churning, vibrating soundtrack by Wallfisch and Zimmer pays homage to Vangelis' aural masterpiece (complete with a key musical cameo from the original soundtrack) while adding its own mystique with soaring strata of synth-sound.  The film even furthers the climate and environmental storyline presciently rendered in the 1982 film, thus securing both films' place in the emerging subgenre of cli-fi (literature and art that addresses or is informed by climate change).  With its brooding, pessimistic interplay of light and shadow against the backdrop of extreme climate breakdown, I suggest that BR2049 is part of a new genre-fusion we might call "cli-fi noir."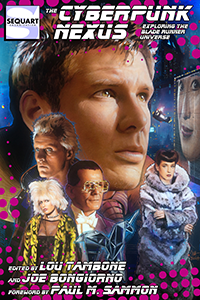 Race erasure in Blade Runner
But BR2049 also continues a failing of its predecessor – the erasure of race, even as it appropriates the black experience of slavery, oppression, and the struggle for personhood and freedom.   As I watched both films from the perspective of the Black Lives Matter movement, I realized that the feeling I savored from both movies was largely premised on the reality of my occupying a racial, socio-economic position as a middle-class Caucasian who benefits from the privilege of my white race. Because, as writer Nicholas Podany points out, neither film requires white people "to leave their comfort zones of white fragility to enjoy a compelling story about bigotry and persecution."[2] In other words, while each film can be viewed as a metaphor for racial oppression, they give barely a nod to the reality of racism itself. Because despite a few token characters of color, the main roles in both movies are filled by white actors.
Whitewashing science fiction
Whitewashing in science fiction is, of course, nothing new.[3]  But BR2049 had an opportunity to engage the reality of racism in a much more honest and straightforward way than its predecessor.  The fact that that opportunity was squandered is more than just a disappointment. It actually reinforces a narrative and underlying artistic structure of white privilege precisely at a moment in our history when such narratives need to be interrogated, deconstructed, and placed within a larger context of eco-racism and the climate crisis that is having enormous impacts on communities of color.
This essay will critically explore BR2049 through the intersections of race, technology, climate change, and economic exploitation. I will make the case that if "cli-fi noir" is, indeed, to become a new subgenre, then directors, producers, and actors must forthrightly address the reality of raced bodies if there is to be any integrity to their art. . .
To read the rest of the essay, you can find The Cyberpunk Nexus: Exploring the Blade Runner Universe on Amazon in print and on Kindle.
---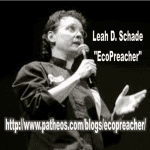 Leah D. Schade is the Assistant Professor of Preaching and Worship at Lexington Theological Seminary (Kentucky) and author of the book Creation-Crisis Preaching: Ecology, Theology, and the Pulpit (Chalice Press, 2015). She is an ordained minister in the Lutheran Church (ELCA).
Twitter: @LeahSchade
Facebook: https://www.facebook.com/LeahDSchade/.
See also:
Watching 'Blade Runner' (1982) in the Age of Black Lives Matter
Blade Runner 2049: Cli-Fi at Its Best
---
[1] See: Sammon, Paul M. The Future Noir: The Making of Blade Runner (Revised and Updated).  Dey Street Books, 2017.
[2] Podany, Nicholas. "BLADE RUNNER 2049: White Appropriation of Black Oppression." Medium, 19 Oct. 2017, medium.com/@nicholaspodany/blade-runner-2049-white-appropriation-of-black-oppression-76a5e20ca324. Accessed 6 Feb. 2018.
[3] See: Rieder, John. Colonialism and the Emergence of Science Fiction. Middetown, Connecticut: Wesleyan University Press. 2008. See also: Berlatsky, Noah. "Why Sci-Fi Keeps Imagining the Subjugation of White People." The Atlantic, Atlantic Media Company, 25 Apr. 2014, www.theatlantic.com/entertainment/archive/2014/04/why-sci-fi-keeps-imagining-the-enslavement-of-white-people/361173/. And: Berlatsky, Noah. "Star Wars and the 4 Ways Science Fiction Handles Race." The Atlantic, Atlantic Media Company, 25 Mar. 2014, www.theatlantic.com/entertainment/archive/2014/03/-em-star-wars-em-and-the-4-ways-science-fiction-handles-race/359507/.