"Taste and see that the Lord is good; happy are they who take refuge in God!" – Psalm 34:8.  Here's what it looks like when the church is bread in the wilderness.
[Texts:  1 Kings 19:4 – 8; Psalm 34:1 – 8; Ephesians 4:25 – 5:2; John 6:35, 41 – 51.]
A woman drives into the church parking lot where the rolling farm fields surround her on all sides and the low shoulders of mountains rise in the distance.
It's a beautiful red-brick country church with a tall white steeple and a graveyard with stones engraved back to the 1800's.
The woman – we'll call her Betty Lynne – parks her car, gets her cane, and slowly makes her way to the entrance of the church.  She opens the door to the fellowship hall and the smell of chicken corn soup envelopes her like the welcoming aroma of her favorite childhood meal.  The women in the kitchen are preparing the soup for lunch, and they greet Betty Lynne with smiles and hugs.  It's only 10 a.m., so she ambles to the coffee pot to pour herself a cup, then finds a chair at the table next to old friends and new.  She's not a member of the church, but her friend June invited her.  As they work on a puzzle, they talk and reminisce, laughing and remembering.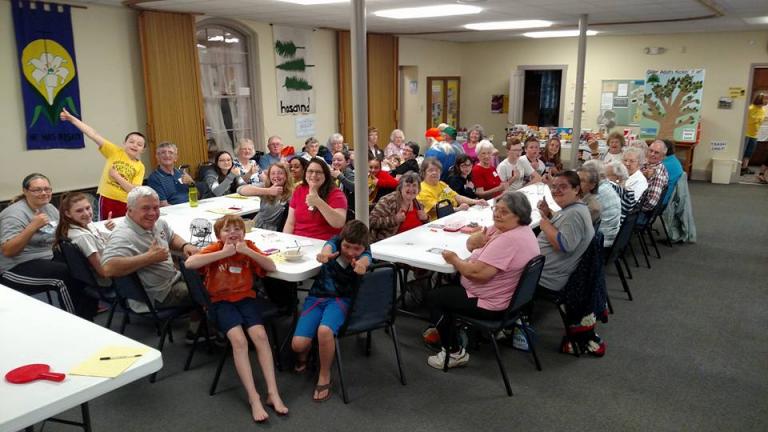 It's the second Wednesday of the month – the day of the senior center at the church.
They call it OAKs – Older Adults Kickin' it up.  As the hour hand moves toward 11, more and more people walk through the door, and the excitement builds.
Finally, it's announced:  Time for Bingo!
The tables are pushed together to make one big rectangle, and everyone finds their seat.  For the next hour the caller yells out the numbers:  B-7; 0-24; N-52.  Betty Lynne watches her card fill up until she can call out:  BINGO!  Cheers and groans surround her as she makes her way to the prize table and chooses from among the fresh fruits and vegetables from the farmer's market, canned goods, and everyday house supplies – toilet paper, a toothbrush, hand soap.  By the time the hour is up, everyone will have had a chance to win something from the table, with plenty still left over.
Then the pastor announces prayer concerns, asks for the month's birthdays to celebrate, and leads them in prayer.
Then it's time for the feast!
The chicken corn soup steams in the kettle. There is salad and bread.  And desserts made by volunteers in the group.  Betty Lynne chooses a decadent looking strawberry concoction with white whipped cream pillowing the glistening berries.
After the meal, there will be a speaker, as there is each month.  This time a man is coming to talk to them about fire safety.  Last month, a young woman came to teach them about healthy cooking.  Next month, the youth from the church will join them and they'll play chair volleyball with a beach ball.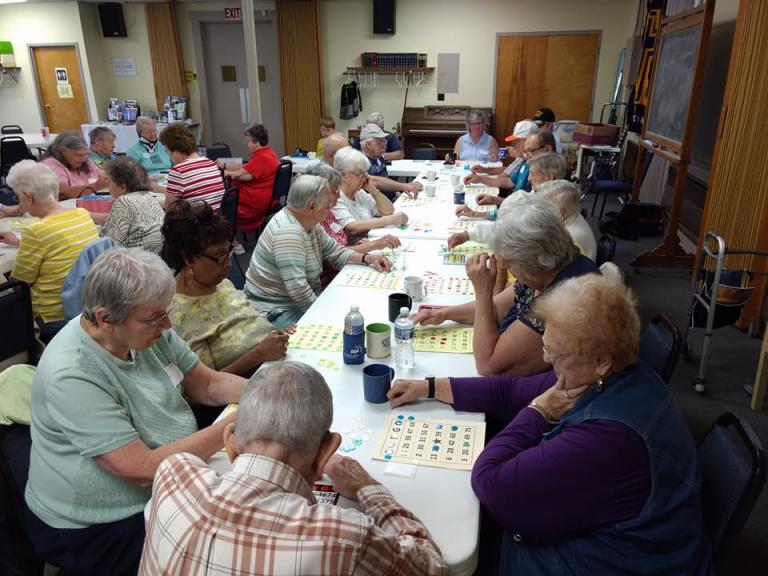 As Betty Lynne sits down at the table, one of the women from the kitchen joins her and says, "Betty Lynne, I'm so glad you've been coming to OAKs.  It's wonderful to have you here with us each month."
Betty Lynne reaches for the woman's hand and smiles.
"Well, dear, let me tell you.  My husband died many years ago.  My children are grown and gone.  They do visit often so I can see my grandchildren.  But most days I must eat all by myself.  This is one time I don't have to eat alone.  I enjoy the food.  But it's the people who really make it wonderful for me."
"Taste and see that the Lord is good; happy are they who take refuge in God!" – Psalm 34:8.
In our reading from 1 Kings, Elijah was in the wilderness feeling alone and depressed.  He had been a successful prophet, but he had enraged the Queen by felling her minions – the servants of the god Baal.  So he had to flee, running into the desert.  Exhausted, depleted, frustrated, and in utter despair, Elijah just wants God to end it all.
God answers his prayer, but not in the way he wanted.
After a deep sleep, Elijah wakens to find an angel nudging him to "get up and eat."  The smell of the warm bread and the taste of the fresh water invite him to take a few bites and a couple of sips before he collapses back into sleep.  Then the angel rousts him up and urges him to eat and drink again.  "Otherwise the journey will be too much for you."
Ours is a God who feeds us – physically and spiritually.
God knew that Elijah was not finished yet, and he needed strength for his journey.  Betty Lynne needed strength for her journey, too.  She had been through so much in her life.  In addition to being a wife and mother, she had worked long hours in a local factory.  Later, she helped to raise her grandkids.  But the loss of her husband took the wind out of her sails.  At this point in her journey, she was lonely.  Her life was in a wilderness place where she felt depleted and depressed.
So when her friend June invited her to the church, she was reluctant at first.  But June came to pick her up one morning several months ago, and she's come to OAKs ever since.  She found a community of people – friends she had gone to high school with but had lost touch.  New friends who now know her by name.  Here in this little country church, she is fed in her body, mind, and spirit.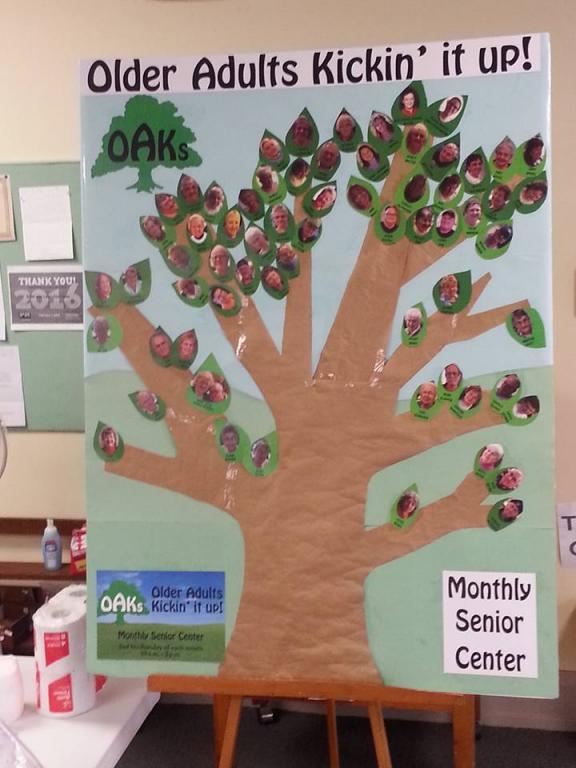 What Betty Lynne didn't know is that the church itself had come through its own wilderness time.
The church had been a thriving congregation back in the 1800s, and into the 1900's, all the way through the 1970s.  They had built an extra Sunday School wing just to accommodate all the people.  But over the last few decades, attendance began to fall off.  Then one of their previous pastors went rogue and split the church.  They lost a third of their members.  Little by little, they'd been trying to recover, but the finances took a hit, and they were worried they might have to close.  Those who remained were faithful and did not want to give up.  But it was a wilderness time for their congregation.
However, they started to ask themselves an important question.
How can we do ministry with the gifts God has given us?  We'll never be like the big megachurch in town with the coffee shop and the gymnasium.  But maybe God has something else in store for us.  Maybe God isn't finished with us yet.  So what can we do?
After a period of discernment and prayer, one of their members said in a meeting, "You know, there are no senior centers in our area.  The last one closed many years ago.  We have many older adults who live around here, but there's not much for them to do.  We have a building.  Many of us know how to cook.  What if we opened up the church once a month for a senior center and see if anyone would come?"
As their pastor, I helped them to organize and publicize the kick-off event.  For the first few months, attendance hovered around 15 – 20 people. But then word started to get around about this great program that the church had.  So, by the time I left two years ago, they averaged around 40 – 50 every month.  We had gotten a grant that allowed us to purchase the gift items for bingo and to pay speakers.  And every summer the youth were invited to join in.  Then we had to set up even more tables for bingo!
This church came through their wilderness by realizing they could become bread in the wilderness for others.
The ones who come for OAKs enjoy a meal and fellowship.  They learn something.  They laugh.  They pray.  They share stories.  And everyone knows their name.  It's a time of refreshment every second Wednesday of the month – just enough to help them on their journey.
Since then, the church has added a diaper distribution program.  So now they serve young families as well as older adults.  They also hold a fundraiser every year in memory of a beloved member who died, which results in thousands of dollars for scholarships and to help children in need.
This congregation, United In Christ Lutheran Church, in Lewisburg, Pennsylvania, learned what Jesus meant when he talked about the bread of life.  They knew that people need to be fed – actual bodies needing real food.  But it's also a metaphor for the quality of relationships in our lives and in our communities that sustain us.  Things like being "kind to one another, tenderhearted, forgiving one another, as God in Christ has forgiven you," (Ephesians 4:32).
When Paul talked about being "imitators of God" in Ephesians 4:25 – 5:2, this is what he meant – living in love "as Christ loved us and gave himself up for us, a fragrant offering and sacrifice for God."  This is what gives life to the world.
Where are the wildernesses in your community? Those places where people are feeling frustrated, depleted, depressed, and exhausted?
How can your church give of itself in order to be the bread in the wilderness for those in need?
What does that "fragrant offering" smell like in your church?
For Betty Lynne, that fragrant offering smells like homemade soup and freshly brewed coffee once a month in a little country church in Pennsylvania.
Maybe for your church it smells like fresh paint when a group goes out to help prepare a house for a family through Habitat for Humanity.
Maybe it smells like a hot sidewalk outside your state house as your members join the Poor People's Campaign to advocate for the rights of citizens and hold our leaders accountable.
Maybe it smells like popcorn and cotton candy, like Gethsemane Lutheran in Lexington, Kentucky, where my family and I now attend, as we serve over 300 children at our Back-to-School event, handing out backpacks and school supplies.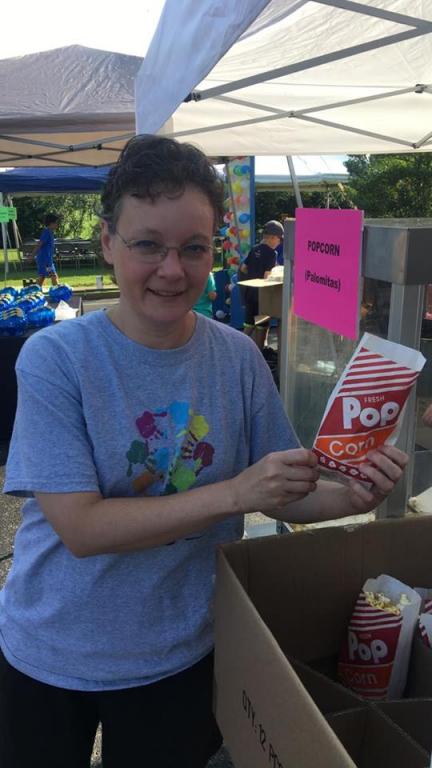 We serve to meet the physical needs AND to build relationships.  To create a little oasis in the wilderness for folks whose lives are a struggle and whose resources are running thin.
"Taste and see that the Lord is good; happy are they who take refuge in God."
Let's be that church where people can taste and see that the Lord is good.  Let's be that bread in the wilderness – that place where folks can find refuge in God.
---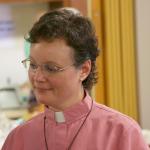 Leah D. Schade is the Assistant Professor of Preaching and Worship at Lexington Theological Seminary (Kentucky) and author of the book Creation-Crisis Preaching: Ecology, Theology, and the Pulpit (Chalice Press, 2015). She has been an ordained minister in the Lutheran Church (ELCA) for 18 years, and pastored United in Christ Lutheran Church from 2011 – 2016.
Twitter: @LeahSchade
Facebook: https://www.facebook.com/LeahDSchade/.
Read also:
Manna: Bread and Laughter in the Wilderness
Holy Communion: YOUR Incarnation, EARTH'S Incarnation
How to 'Be Church' in an Online Seminary: Environmental Education, Sustainability, Community