Invocation Prayer on the Eve of Impeachment
Rev. Dr. Leah D. Schade
This the invocation prayer I delivered on Tuesday, December 17, at the Impeachment Rally in Lexington, Kentucky.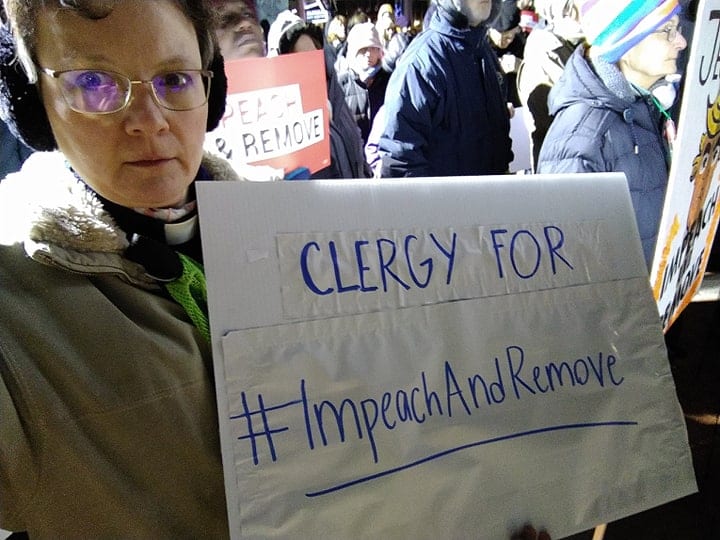 Salaam alekum, blessed be, shalom, peace, blessings, Namaste.
We have gathered on this solemn eve of an important historic moment in our country.
The leaders whom we elected to represent the people's best interest will vote on articles of impeachment of the president of the United States for violating his oath of office and endangering our democracy and our citizens.
There is a teaching in the Islamic tradition where the Messenger of Allah said, "Help thy brother whether he is the doer of wrong or wrong is done to him." His companions said, "O Messenger! We can help a man to whom wrong is done, but how could we help him when he is the doer of wrong?"
He replied: "Take hold of his hand from doing wrong." (Manual of Hadith)
My fellow citizens, our task ahead is not an easy one. We are charged with taking hold of the hands that are doing wrong.
Those who oppose holding this president accountable will often quote Romans 13:1 which reads: "Let every person be subject to the governing authorities." The implication is that God ordains that the people must bow before those who rule over them, even if they are dishonorable and abusing the power entrusted to them.
However, they ignore Romans 12:21 and 13:9–10.
21Do not be overcome by evil, but overcome evil with good.
9The commandments … are summed up in this word, 'Love your neighbor as yourself.' 10Love does no wrong to a neighbor; therefore, love is the fulfilling of the law.
These verses are a warning not to succumb to evil, or authoritarian dictators, or anarchy. Yes, we are to support governing powers but – and here's the key – only when they are exercising their power within the proper context of the commandments and the goodness of God.
With this in mind, I invite you to a moment of prayer if you are a person of faith, or simply a moment of silent solidarity.
Holy God, we ask your will to be done for the citizens of this nation in accordance to your commandments and your goodness. We ask your presence in the halls of Congress. Change the hearts and minds of those determined to obstruct justice.
Uphold the cause of justice and righteousness, integrity, and goodness. Sustain those who are fighting the good fight, advocating for the most vulnerable, and serving with honor.
We ask this trusting that you are at work, even when all hope seems lost. We pray in the name of all that is sacred, holy, just and good.
Amen.
---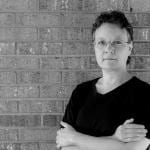 Leah D. Schade is the Assistant Professor of Preaching and Worship at Lexington Theological Seminary in Kentucky. She is the author of Preaching in the Purple Zone: Ministry in the Red-Blue Divide (Rowman & Littlefield, 2019), Rooted and Rising: Voices of Courage in a Time of Climate Crisis (Rowman & Littlefield, 2019), and Creation-Crisis Preaching: Ecology, Theology, and the Pulpit (Chalice Press, 2015).
Twitter: @LeahSchade
Facebook: https://www.facebook.com/LeahDSchade/
Read also:
Impeach Trump To Send Russia a Clear Message: Not on Our Watch!